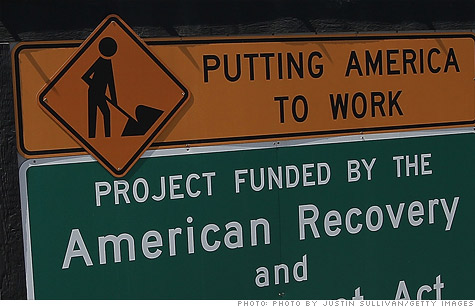 This sign at the Oakland International Airport is for a control tower that was funded by the first round of economic stimulus.
NEW YORK (CNNMoney) -- Despite non-stop criticism from Republicans, the Obama administration's efforts to help the economy has created jobs.
It just hasn't created nearly enough given the damage done to the labor market by the Great Recession.
The administration's initial stimulus plan, the $787 billion package passed in February 2009, was designed to save or create about 4 million jobs.
According to some third-party estimates, the White House may have come close to hitting that target, especially if you factor in the administration's bailout of the auto industry.
But the job losses in late 2008 and early 2009 ended up being much worse than expected. A total of 3.8 million jobs were lost from December 2008 through April 2009, an average of just over 750,000 a month.
By the time the job losses stopped a year after Obama took office, the Great Recession had cost the economy 8.8 million jobs, and the unemployment rate was stuck in the 9% to 10% range.
So even if estimates of more than 4 million jobs saved or created was correct, it was not nearly enough to get the job market back on track.
And many of the jobs created or saved through earlier efforts have now come to an end. Most of the public works projects, such as road repavings and bridge repairs, have been completed. Money given to states to keep teachers, fire fighters and police on the job has run out.
As the president prepares to go before Congress to ask for another $300 billion in job creation efforts, here's a summary of what we got for the past efforts:
Stimulus Round 1: The stimulus bill passed by Democrats in 2009 with almost universal Republican criticism was split into three parts: Just over $200 billion in tax cuts, about $300 billion in direct spending on projects and other aid to states, and just under $300 billion in social safety-net spending through items such as extended unemployment benefits and health insurance subsidies.
The nonpartisan Congressional Budget Office estimates that the parts of the program that got the most criticism -- actual spending on projects and aid packages -- was the most effective in creating jobs.
Tax cuts for middle income workers were less effective while tax cuts for the wealthy were deemed the least effective.
Still, the CBO estimates that at least 1.4 million jobs were created and saved by the direct spending alone, and that as many as 3.6 million jobs were produced while stimulus funds were being spent.
A separate study by Mark Zandi, chief economist of Moody's Analytics and an advisor to John McCain's presidential campaign, and Alan Blinder, a former Federal Reserve vice chairman and advisor to President Clinton, estimates that the stimulus act created about 2.7 million jobs. But the impact of stimulus has waned since last year.
"Stimulus is no longer playing a major role, but it was never intended to be the source of long-term growth," said Zandi. "It was supposed to fill a hole till the private sector stepped in."
And Zandi argues that the private sector is hiring again. He pointed out that businesses have added 2.4 million jobs since March 2010.
Stimulus round 2: This round includes a wide variety of actions taken between the passage of the initial stimulus act and the deal on a tax cut package at the end of 2010. Included in this catch-all category is the bailout of the U.S. auto industry, the homebuyer's tax credit, the Cash for Clunkers program, more help for the unemployed and a variety of targeted programs for small businesses.
Those programs together cost about $220 billion, though most of the $60 billion spent on the auto bailout has been returned by the automakers.
The auto bailout was clearly the most substantial and successful of these efforts. By funding General Motors (GM, Fortune 500) and Chrysler Group as they worked their way through bankruptcy, and providing needed cash to auto parts suppliers and finance companies, the Obama administration saved an estimated 1.5 million jobs, according to a study by the Center for Automotive Research, a Michigan think tank.
Without the bailout, GM and Chrysler could have been forced out of business. Other automakers, including Ford Motor (F, Fortune 500) and even some foreign automakers with significant operations in the U.S., could have been forced to shut some operations due to failures across the supplier base.
Today all three U.S. automakers are profitable and posting improved sales, even though industrywide sales are still well below the pre-recession levels. More importantly, Detroit's Big Three are all hiring and increasing production at U.S. plants.
The other efforts were far more temporary, with a limited effect on jobs. The homebuyer's tax credit gave a temporary lift to home prices, but prices have declined further and building remains in a deep slump. The Cash for Clunkers program probably had a more lasting impact on the environment by getting old gas guzzlers off the road than giving any permanent lift to the auto industry.
Stimulus round 3: This round was essentially the tax deal passed in December following negotiations between the incoming Republican leadership in the House and the Obama administration. It was actually the most expensive stimulus effort, at an estimated cost of $858 billion.
Most of the cost was for the extension of the Bush-era tax cuts through the end of 2012. But there was also a one-year cut on the payroll tax paid by all workers, a so-called tax holiday that President Obama now would like to see extended for another year.
There was also an extension of long-term unemployment assistance -- which Obama is also expected to ask Congress to extend.
The jobs impact is tougher to estimate. Any lift came from consumers having more to spend, which in theory leads businesses to bring on more help to meet increased demand for goods and services.
There was a bump in hiring in the immediate wake of the holiday, with businesses adding 721,000 jobs from February through April, their best three months of job growth since the end of 2005 and beginning of 2006.
But as the economy slowed and uncertainty rose this summer, hiring ground to a halt, with only 17,000 jobs added in the private sector in August.