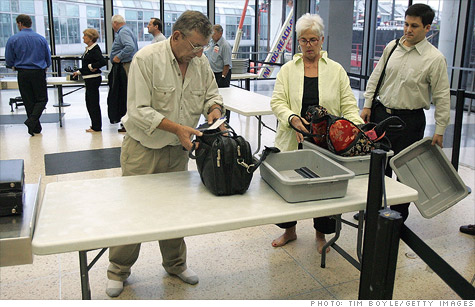 NEW YORK (CNNMoney) -- Remember when you could arrive at the airport 30 minutes before your flight, get complimentary peanuts and a Coke and be greeted upon arrival by a loved one right at the gate?
Since the Sept. 11 terrorist attacks and the subsequent establishment of the Transportation Security Administration (or TSA), the airport experience has changed dramatically. For travelers, airports now mean long lines, pricey snacks and the added bonus of an occasional pat down.
And for all of those privileges, travelers pay extra.
For each leg of a journey that requires them to board a plane, passengers now pay a $2.50 September 11th Security Fee, which goes toward financing the TSA's staff, operations and screening equipment -- like those new body scanners. (Passengers don't pay the fee more than twice per one-way trip.)
Last year, airlines and passengers contributed $2 billion in taxes and fees to the TSA. The federal government -- in other words, taxpayers -- picked up the rest of the organization's $8 billion tab.
Now, there's a proposal in front of Congress to double the September 11th Security Fee to $5 per enplanement.
But travelers are paying for Sept. 11 in ways that go far beyond one measly fee. After flirting with bankruptcy post-Sept. 11, the airlines added insult to injury with loads of revenue-boosting measures like fees for checked bags and fuel surcharges. To cut costs, they reduced the number of flights they offered, crammed more seats onto planes and did away with complimentary snacks.
Needless to say, the customer experience has suffered, said Harlan Platt, a finance professor who covers airline industry at Northeastern University's College of Business Administration in Boston. "To charge someone $25 to check a bag, but then to take away the seven-cent bag of peanuts is just not consumer friendly," he said.
Some people now choose to not fly at all. As a result, there has been a small, but noticeable, decline in air traffic, according to a Cornell study on "The Impact of Post-9/11 Airport Security Measures on the Demand for Air Travel."
That decline in demand has cost the airline industry an estimated $1.1 billion, said Garrick Blalock, a professor of economics who co-authored the report. "Clearly no one likes to be inconvenienced," he said.
On the upside, "the air system today is more secure than it's ever been," Lott said. "There hasn't been another successful act of terrorism in the past decade."
Despite the long lines, more flights are on time than they were 10 years ago, with fewer cancellations or mishandled bags, according to the U.S. Bureau of Transportation Statistics.
But how do travelers feel? According to a poll by Rasmussen Reports last year, only 30% of Americans say the security precautions put in place since Sept. 11 are "more hassle than they're worth," while the majority, or 53%, disagree with that statement.
Put more simply, "if you asked 100 people if they'd like to get to gate 10 minutes early and worry or get to the gate 10 minutes late and be safe, all of them would say they wanted to be safe," noted Platt.
Still, there may be a little relief in sight. The TSA is testing two new programs that should ease congestion at security checkpoints. One, which has already been introduced in Miami and Chicago, directs crew members to a separate security line and another, announced July 14, would allow some frequent travelers to pass through an expedited line after providing additional personal information in advance.
"The good news is that TSA is trying to streamline the security experience," Lott said. (Whether the rest of the traveling population will ever get a reprieve from the restrictions on liquid or removing their shoes remains to be seen.)
In the meantime, most flyers will continue to accept some additional hassle, forgo the peanuts and cough up a fee if it means arriving at their gate safely. Too bad no one will be there to greet them when they get there.