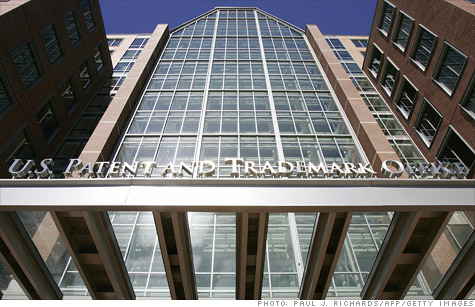 NEW YORK (CNNMoney) -- America's first significant patent reform in six decades is close to becoming law: It passed Congress on Thursday and President Obama has declared that he will sign the bill.
He is also endorsing it as a part of his job creation agenda.
The bill brings changes that will help the U.S. Patent and Trade Office issue higher-quality patents at a faster clip -- a fix all sides agree is urgently needed. Advocates have been pushing for years for this overhaul, and even the bill's critics support parts of the legislation that will generate funding for the patent office.
But is patent reform going to jump-start employment? Proponents say it will create 200,000 new jobs -- but like so many job-creation predictions, this one is almost impossible to pin down.
Several news reports have attributed that figure to Patrick Leahy, chairman of the Senate Judiciary Committee, and Majority Leader Harry Reid. But Leahy's aides say the senator has shied away from attaching hard numbers to the patent reform bill. Sen. Reid did not respond to multiple requests for comment.
Sen. Leahy's office, however, pointed to two different studies as support for the idea that patent reform will be a job-creating engine: a white paper issued last year by the Commerce Department and a 2008 study drafted by researchers from the University of California, Berkeley.
Both studies are extremely limited in scope and don't offer the rock-solid evidence of job creation that patent reform proponents are touting.
There are two things just about everyone agrees on: Patents can play a critical role for startups in securing funding from investors, and the tie between patents and jobs is particularly clear in the pharmaceutical industry.
The Commerce Department's white paper cited studies that reiterated those two points. But extrapolating widespread benefit for all industries was solely the opinion of the Obama administration -- and that gets into a swampier set of assumptions and projections.
The Berkeley study was narrowly focused on startups. Some third-party experts concluded from the study that each patent granted creates, on average, between three and five jobs. (See correction) Yet the study's authors shied away from making general assumptions based on their research.
"There is no principled way to determine from our data whether or not additional patents lead to additional jobs, much less the number of jobs created by each patent," the authors said in a recent guest post on patents blog Patently-O.
So the 200,000-job figure appears to have been concocted through some back-of-the-envelope math. Some advocates like to throw around even more bullish projections. The director of the patent office frequently says "millions" of jobs will be created as a result of the bill.
On the flip side, some believe the bill might do more harm that good on the employment front.
"The patent bill will create jobs -- jobs for patent attorneys, but not too many other people," said Jim Bessen, fellow at Boston University School of Law. "In most sectors of the economy today, patents decrease jobs rather than increase them."
A BU study written by Bessen in March found that the costs of litigation and associated costs with patents outstripped whatever other benefits companies got from them. Patents, in effect, act as a tax on innovation, Bessen said.
"There are deep problems in the patent system that lead to litigation, and this bill doesn't address that," he added.
Google (GOOG, Fortune 500) highlighted this problem in a recent blog post. It says that patent battles have thwarted innovation and forced companies to pay large sums of cash for giant patent portfolios as protection -- cash that otherwise could have been used to invest in the company. Ironically, Google has been one of the tech industry's most robust hirers and innovators, but it has one of Silicon Valley's smallest patent portfolios.
"I'm rather skeptical that the bill will make much difference in job creation," said Brian Kahin, research fellow at Harvard's Kennedy School of Government and a former White House senior technology policy adviser for the Clinton administration.
"Intuitively, it would be helpful, but with the ongoing patent wars, that money's not going into jobs -- it's going into failed companies and speculators' wallets," he said. "Nothing in the bill helps that situation."
The view from the trenches
Can any company point to jobs directly attributable to patents?
Well, there's i4i, which successfully sued Microsoft for patent infringement in an historic case that went all the way to the Supreme Court.
The company developed enterprise document collaboration technology and filed for a patent on it in 1994. I4i didn't wait for its patent grant before it started commercializing its invention: The founders got funding (having a patent pending helped woo investors, they say) and started hiring, growing quickly to 150 employees. The patent was granted in 1998.
But in 2002, i4i's sales vanished. Customers that seemed about to close major deals suddenly pulled out.
"We had what we thought was an inexplicable reversal of fortune," i4i Chairman Loudon Owen recalled. "We spent the next two years looking long and hard and trying to figure out what happened."
Struggling for survival, i4i slashed its headcount to 10 employees and pinched every penny it could. At one point the company unscrewed every second light bulb in its office to save on electricity costs.
In late 2003, the mystery of the vanished sales cleared up: Microsoft released a new version of Microsoft Word with a technology very similar to the one i4i had patented. Knowing that feature was coming, a significant number of potential i4i customers had opted to go instead with Microsoft's less-expensive offering.
"We felt like we were protected, but we were naive," Owen said. "Having a patent doesn't mean you're fully protected."
I4i went to the mat. In 2007 it launched a long, expensive court battle that ultimately cost $10 million. The finale came at last in June -- more than four years later -- when the U.S. Supreme Court upheld a ruling requiring Microsoft (MSFT, Fortune 500) to pay i4i $290 million.
But i4i's staff headcount has never recovered. The company gradually rebuilt and now has around 30 full-time employees, but it relies heavily on outside sales channels and doesn't plan to go back to having its own large, internal sales force.
So did i4i's patents create -- or at least protect -- jobs? Owen thinks so. He said his company might not have survived without the protection they afforded.
But as his saga illustrates, the "patents = jobs" math isn't nearly as simple, or as certain, as politicians would like it to be.
Correction: An earlier version of this story incorrectly stated that the Berkeley study concluded that patent granted to startups creates an average of three to five jobs. That conclusion was reached by outside parties extrapolating from the study.