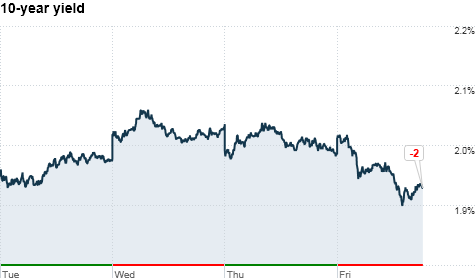 Click chart for prices and yields.
NEW YORK (CNNMoney) -- The yield on the benchmark 10-year Treasury note dropped to a record low on Friday, as worries about European debt, a weak U.S. economy and anticipation of a new round of quantitative easing boosted the appeal of Treasuries.
As Treasury prices soared, the 10-year yield slipped as low as 1.89% on Friday, from 1.99% late Thursday.
Richard Bryant, head of Treasury trading at MF Global, said a triple-whammy of fear has had a pressure-cooker effect on the market, leading yields to hit new lows.
Europe: Concerns about the eurozone's massive debt have been on investors' minds for a while. But more traders have flocked to Treasuries in recent sessions as they worry that Greece may default on its debt as soon as this weekend.
"The European debt situation and weakness in the euro versus the dollar has started chatter in the marketplace about Greece's financial health, and there are worries that the situation could intensify over the weekend," said Bryant.
In addition, the European Central Bank announced that executive board member Juergen Stark was stepping down. Analysts say Stark is leaving amid disagreements over the ECB's bond-buying program.
U.S. economy: Despite Fed Chairman Ben Bernanke's comments earlier this week and Obama's much-anticipated address about jobs on Thursday, investors aren't convinced that the economy is on its way to a stronger recovery.
"The market was hoping for clarification about creating jobs, but I think collectively the market was more optimistic than it should have been," said Bryant. "There's obviously still some work to be done, and people are realizing that the situation we're in isn't going to be solved by a single pair of addresses."
Partly in a show of disappointment, the stock market plunged on Friday. Treasury prices and stocks tend to move in opposite directions.
More Fed action? As a result of this lingering economic uncertainty, Bryant said the market is expecting the Federal Reserve to announce further moves to stimulate the economy later this month.
Because the Fed has already bought medium-term bonds, Bryant said expectations are that the next purchases will be 10-year notes. That has added to the recent buying spree, as traders rush to purchase 10-year notes before the Fed comes in and boosts their value.
"If the Fed's goal is to lower mortgage rates and encourage investors to invest more in riskier assets," Bryant said, "the place to concentrate purchases is in or around the 10-year sector. So it seems like they're going to continue down that path."
The 10-year yield is a benchmark used to set long-term interest rates, like mortgage rates.
As anticipation about this bond-buying move builds, the 10-year yield could sink as low as 1.75%, said Bryant. But once any Fed action is announced, yields may bounce higher again.
Before the Fed's last quantitative easing announcement in November, the 10-year yield dropped to 2.5%. But as soon as the announcement was made, it bobbed up to 3%.
"We could see the market get ahead of itself and the 10-year get overbought," Bryant said. "The market gets amped up, but then once the announcement is actually made, people realize we'll have to wait to see real results, so we could see some softening."