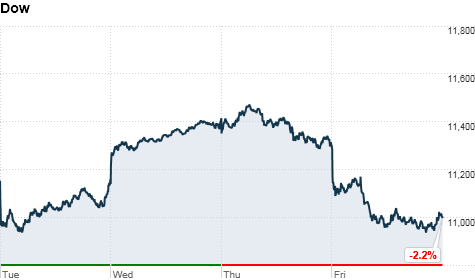 Click the chart for more stock market data.
NEW YORK (CNNMoney) -- Stocks ended sharply lower Friday, as bad news out of Europe kept piling up. The sell-off triggered the sixth weekly decline in seven weeks for the Dow and S&P 500.
Just before the opening bell, the European Central Bank announced that executive board member Jürgen Stark was stepping down. Analysts say Stark is leaving amid disagreements over the ECB's bond-buying program.
The ECB has been buying bonds issued by troubled European governments in an attempt to stabilize volatile sovereign debt markets, but the program has been criticized for overstepping the ECB's sole mandate to maintain price stability.
Selling gained momentum in the afternoon as investors also grew increasingly concerned about a possible Greek default.
The Dow Jones industrial average (INDU) tumbled 304 points, or 2.7%. At its lowest points, the blue chip index was down 359 points.
The S&P 500 (SPX) slumped 32 points, or 2.7%, and the Nasdaq composite (COMP) lost 71 points, or 61 points, or 2.4%.
The day's steep losses pushed all three indexes to end in the red for the week. The Dow declined more than 2%, the S&P fell 1.7% and the Nasdaq slipped 0.5%.
"There's a lot of nervousness that Greece could default this weekend, and Greek bonds yields keep rising," said Joe Saluzzi, co-head of equity trading at Themis Trading.
Reports said Germany is preparing to shore up its banks to protect them against a Greek default. If Greece's bonds become worthless, that can trigger capital-requirement problems, and a lot of major banks could go under, Saluzzi said.
"The financial contagion could be pretty bad, so investors are getting out now and waiting to see how all of this will shake out," he added.
Earlier Friday, investors were on edge following the surprise announcement of Stark's resignation.
"Stark has been a fairly vocal critic over the ECB's bond purchasing program," said Michael Hewson, analyst at CMC Markets in London. "His resignation highlights the political paralysis at the heart of Europe, and the debt crisis is approaching a tipping point."
Stark's departure along with Bank of Italy Gov. Mario Draghi taking over from ECB President Jean-Claude Trichet in November (Trichet is retiring) raises questions about how the region will handle its ongoing sovereign debt problems.
"A big part of the European debt crisis has been the lack of coherent response from European officials," said Kathy Jones, fixed income strategist at Charles Schwab. "It always seems like they're behind the curve, with too little too late, and all the changes in leadership in the middle of a crisis increases the uncertainty."
Stocks in Europe took a dive following the news and ended sharply lower. Britain's FTSE (FTSE) 100 shed 2.4%, the DAX (DAX) in Germany slipped 4.1% and France's CAC (CAC) 40 fell 3.2%.
The euro slid to a nearly 7-month low against the dollar, trading at around $1.36. The greenback, a traditional safe haven, also gained strength against the Japanese yen and British pound.
As investors searched for safety, they fled risky investments like stocks and oil and rushed into U.S. Treasuries and gold. The 10-year yield fell to a record low of 1.89% from 1.99% late Thursday, and gold prices added $2, or 0.1% to $1,859.50.
The VIX (VIX), Wall Street's fear gauge, shot up 15% to sit just below 40. A VIX reading higher than 30 is considered a sign that investors are getting worried.
Economy: Investors also digested President Obama's stimulus plan, in which he promises to boost hiring and provide a jolt to the stalled economy, if it becomes law. Mixing $253 billion in tax cuts and $194 billion in new spending, the total bill for the plan is $447 billion.
"We know what's been promised, and the size of it is encouraging. But the big question is whether or not it will get passed, and what that process will look like," said Jones. "Nobody wants to relive this summer's debate over the debt ceiling."
Investors also continued to mull over also Federal Reserve Chairman Ben Bernanke's speech delivered Thursday afternoon. Stocks ended sharply lower Thursday, as investors signaled disappointment that the Fed chief didn't offer any new solutions to the nation's economic slowdown.
Meanwhile, wholesale inventories rose 0.8% in July. Economists were expecting the figure to increase 0.7% after rising 0.6% in June.
Companies: McDonald's (MCD, Fortune 500) stock fell 4%, making it among the worst performers on the Dow. The fast-food chain's same-store sales for August fell short of analysts' expectations.
Retailer Lululemon Athletica (LULU) beat expectations, reporting quarterly earnings of 26 cents per share. But its shares dropped 4.5% on weak guidance.
Kroger (KR, Fortune 500) topped estimates with a profit of $281 million for the second quarter, and the supermarket chain also reiterated its full-year guidance. But Kroger's stock fell 5.7% as the company's costs continued to rise and cut into profit margins.
Shares of Bank of America (BAC, Fortune 500) slipped 3%, after a Wall Street Journal report said the bank may increase layoffs to 40,000 from the 30,000 job cuts previously reported.
World markets: Rapidly rising prices in China finally started to slow, giving some relief to consumers in the world's second-largest economy. China's Consumer Price Index showed prices rose 6.2% over the 12 months ending in August.
Asian markets ended lower. The Shanghai Composite (SHCOMP) edged lower 0.05%, the Hang Seng in Hong Kong (HSI) slid 0.23% and Japan's Nikkei (N225) dropped 0.63%.