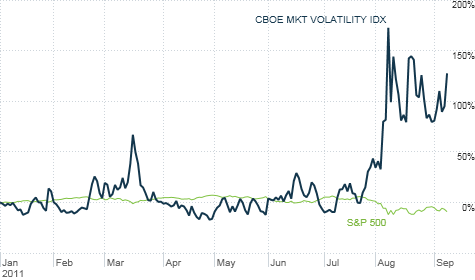 The VIX is often called the fear index. But it really measures volatility. And it's not something investors should use to try and time the market's next move.
NEW YORK (CNNMoney) -- This must happen to many parents. Your kid grows up, goes to college, moves away from home and becomes an adult you hardly even recognize anymore.
That's how Menachem Brenner, a professor of finance at NYU Stern and one of the pioneers in helping to create what eventually became Wall Street's most widely cited "fear" gauge, feels about the CBOE Volatility Index or VIX. (VIX)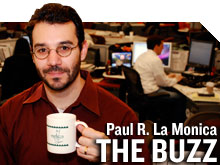 Brenner, along with Dan Galai, a finance professor at the Hebrew University in Jerusalem, published a paper in 1989 about a need for new ways to hedge against volatility.
Much of their methodology is present in what we now know as the VIX but the actual index itself was developed for the CBOE a few years later by another professor, Robert Whaley. (Brenner said he and Galai originally dubbed their proposed volatility measure the "Sigma Index.")
The VIX tends to move up and down sharply on days when stocks are getting whipsawed. For example, with the Dow (INDU) and S&P 500 (SPX) each falling more than 2.5% Friday on renewed worries about Europe, the VIX was up 15%.
Brenner bristles at the notion, though, that the VIX is only about fear, and argues that some investors are misinterpreting it as something that can accurately point to future stock movements.
"A lot of people look at the VIX as possibly a predictor of the market direction. I think that is totally wrong," Brenner said. "The reason it's called the 'fear index' is it jumps when the market declines. But it doesn't jump before the market declines."
That's an important factor for investors to keep in mind given that we live in a world where volatility reigns supreme.
The VIX has given rise to a slew of other volatility indexes, including ones for the Nasdaq 100 (VXN), oil (OVX) and gold (GVZ). There are even more arcane instruments like exchange-traded notes that offer exposure to the short-term (VXX) and mid-term (VXZ) options and futures contracts in the VIX.
But big moves in any of these various volatility measures are not something that the average investor should use to make investment decisions.
Look at this week for example. The VIX popped 9% Tuesday as stocks fell. But the next day, the S&P 500 rose nearly 3% and the VIX sunk 10%. And now we have stocks plunging and the VIX soaring again Friday.
The VIX is a weather vane. A rainy day today doesn't mean you should necessarily bring an umbrella to work tomorrow.
Brenner said the intent of the VIX and other volatility indexes is mainly for sophisticated traders to hedge portfolios, not be the basis for a long-term plan to buy or sell specific stocks or commodities.
And with volatility unlikely to end on Wall Street anytime soon, it's even more important for investors to remember that.
"People have to be careful. Volatility indexes do give you an indication of what people currently expect from the markets but it's more for protection," he said, adding that selling stocks just because the VIX surged is "akin to rushing to buy insurance after an earthquake or other disaster."
Reader comment of the week. I tweeted a lot on Thursday about the buildup to President Obama's big job speech. Since last night was also the first game of the NFL season, I made more than a handful of football references -- even suggesting that it would be fun if NBC pigskin commentator Al Michaels did a play-by-play.
That prompted Tom Bean to echo the most famous call of Michaels' career --and possibly the most famous in sports save for "The Giants win the pennant!" repeated ad infinitum.
"Do you believe in jobs miracles?" >> Noooooo!" he tweeted.
I'd love to believe. But sadly, I don't.
The opinions expressed in this commentary are solely those of Paul R. La Monica. Other than Time Warner, the parent of CNNMoney, and Abbott Laboratories, La Monica does not own positions in any individual stocks.