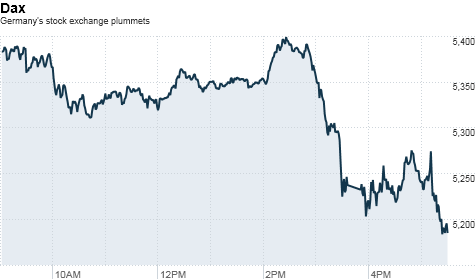 Click the chart for more world market data
NEW YORK (CNNMoney) -- Investors were rattled Friday as worries the Greek government may default on its debts resurfaced.
Stocks markets in Europe and the United States plunged. The euro sank 1.6% versus the dollar. Yields on U.S. Treasuries and German bonds fell to record-lows as investors took shelter in safe-haven assets.
The market turmoil was driven by fears that Athens may not get its next installment of bailout money from the European Union, International Monetary Fund and European Central Bank.
Concerns about Greece had eased somewhat after the EU agreed in July to provide a second bailout for the debt-stricken nation. But the 109 billion euro package, which must be approved by the individual governments of all 17 nations that use the euro, has been called into question over the last few weeks.
The sell-off on Friday "is a continuation of an ongoing process of decay," said Carl Weinberg, chief economist at High Frequency Economics.
Last week, IMF and EU officials unexpectedly left Athens during a review of the government's progress on its debt reduction program. That gave rise to speculation that Greece may not be able to hit certain fiscal targets that are a condition for its bailout loans from the so-called troika.
Greece received the final installment of its first bailout in July. The $17 billion it received was expected to keep the nation afloat for three months.
"The concern now," said Weinberg, "is that having been declared unfit in previous reviews, Greece might not get the money it needs this time, and that would put them into a default situation."
In addition, investors are worried that Greece may not go through with a proposed bond swap with private sector investors if the participation rate falls short of expectations.
"There is still uncertainty over whether sufficient private sector investors have been incentivised to participate in the debt swap arrangements involving Greek debt," economists at Nomura Securities wrote in a research report.
Meanwhile, investors have lost confidence in the ability of European Union political leaders to come up with a lasting solution to the debt problems in Greece. The big fear is that the debt crisis will spread to other vulnerable nations, such as Italy and Spain, and eventually force one or more EU nations to abandon the euro.
Those fears were exacerbated Friday by a report that officials in Germany are working on a contingency plan to protect the nation's banks if Greece were to default.
Banks in Europe hold billions of euros of government bonds and investors are unsure what those assets will be worth in the future. French banks appear to be the most exposed, but analysts say German banks are not immune to losses on sovereign debt.
Adding to the uncertain outlook, Jürgen Stark, a member of the ECB's executive board, announced plans Friday to step down before the end of his term in 2014.
The abrupt departure raised concerns about divisions within the ECB over a controversial bond buying program the bank reactivated earlier this year.