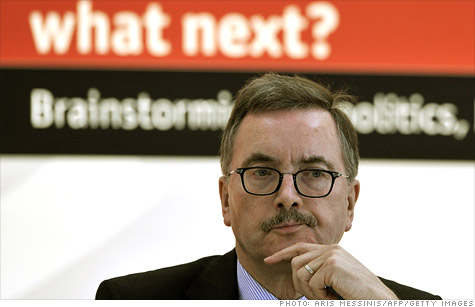 Jürgen Stark, a member of the ECB's executive board, has been a vocal critic of the central bank's bond buying program.
NEW YORK (CNNMoney) -- European financial markets were rocked Friday following a shakeup at the European Central Bank.
Stock markets in London, Frankfurt and Paris all fell between 2% and 4%. The euro plunged 1.6% against the dollar. The yield on the benchmark German bond fell to an all-time low as investors hunkered down in safe haven assets.
The upheaval came after Jürgen Stark, a member of the ECB's executive board, announced plans to step down before the end of his term in 2014. Stark will remain in his current position until a successor is named, according to a statement issued by the ECB.
Germany has proposed its deputy finance minister, Jörg Asmussen, to replace Stark, Finance Minister Wolfgang Schaeuble said Saturday.
The statement said Jürgen was resigning for "personal reasons." But the former German central banker had opposed a controversial emergency bond buying program the ECB reactivated earlier this year.
The departure "suggests an increasing split within the ECB over additional bond buying going forward," said Nick Stamenkovic, a market strategist at Ria Capital Markets in London.
The ECB has been buying bonds issued by troubled European governments in an attempt to stabilize volatile sovereign debt markets. Investors have driven up borrowing costs for several European nations struggling to reduce unsustainable debts as the economic recovery slows.
In August, the program was expanded to include bonds issued by Italy and Spain, two of Europe's largest economies.
But the bond-buying program has been criticized for overstepping the ECB's sole mandate to maintain price stability.
ECB President Jean-Claude Trichet declined to comment on future bond purchases at a press conference Thursday in Frankfurt.
Stark's decision to step down comes weeks before Trichet's eight-year term ends. Trichet will be succeeded by Italian Bank Governor Mario Draghi on Oct. 31.
The shake up at the ECB comes as Europe continues to wrestle with a debt crisis that pushed Greece to the brink of default earlier this year and is threatening to spread to other EU nations.
The long-running crisis has intensified this year as investors have lost confidence in the ability of EU policymakers to come up with a long-term solution. The big worry is that one or more of the 17 nations that use the euro could abandon, or be forced out of, the 12-year old currency union.
"This is another sign of the tensions among policymakers about what to do about the periphery crisis," said Jennifer McKeown, a senior economist at Capital Economics in London. "It doesn't bode well for future policy measures."
The intensifying crisis has roiled financial markets around the world, with U.S. stocks plunging Friday following Europe's slide.
On Thursday, the ECB lowered its forecast for European economic growth this year and next. It now expects growth of only 1.4% and 1.8% in 2011, and between 0.4% and 2.2% in 2012.
Both are down from earlier forecasts, and the risks to that gloomier outlook are now to the downside, rather than balanced as the ECB had previously said.
The European debt crisis will be the first topic of discussion when finance ministers and central bankers from the Group of Seven rich economies kick off a two-day meeting in France later Friday.