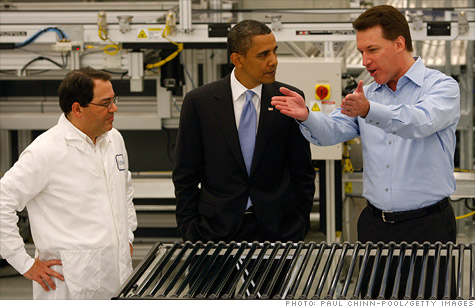 Investigation comes just days after the Obama-backed solar panel maker files for bankrupcy. Here, Obama at the Solynrda plant with founder Chris Gronet.
NEW YORK (CNNMoney) -- FBI agents, acting with inspectors from the Department of Energy, raided the offices of solar panel maker Solyndra on Thursday, just days after the DOE-backed company filed for bankruptcy.
A spokeswoman for the FBI in San Francisco confirmed the raid, but declined to offer further details. The DOE inspector general's office typically investigates allegations of fraud or wrongdoing at the agency and within entities the agency does business with.
Solyndra filed for bankruptcy last week, closing its Fremont, Calif., factory and laying off 1,100 workers. The falling price of traditional silicon-based solar panels was cited as the main reason for the closure. Solyndra made a more advanced panel that relied on less silicon. When its rivals' technology got cheaper, Solyndra's became less appealing.
The company's factory was built with a $535 million loan backed by the Department of Energy. It was touted by President Obama as one of the ways his administration is nurturing a new, jobs-creating clean energy economy.
The bankruptcy has drawn an outcry from lawmakers and others skeptical of Obama's green jobs push.
"The FBI raid further underscores that Solyndra was a bad bet from the beginning and put taxpayers at unnecessary risk," House Energy Chairman Fred Upton told the National Journal on Thursday. "President Obama's signature green jobs program went from a darling of the administration to bankruptcy to now the subject of an FBI raid in a matter of days."
Congressional hearings have been scheduled on the matter.
Solyndra did not immediately respond to a request for comment.
A DOE spokesman said that, while regrettable, the Solyndra bankruptcy will not affect the agency's overall loan guarantee program, which has backed nearly $40 billion in projects to date. They include everything from solar and wind to advanced biofuels and nuclear power.
"That is the nature of supporting emerging, innovative companies," said the agency spokesman, Damien LaVera. "In the long run we will have more successes than failures, and those companies will help lead America to a new era of productivity and global competitiveness."
It's unclear just how much taxpayers will ultimately lose in Solyndra's bankruptcy process, if anything. It's possible the company could emerge restructured and ready to compete. But it's also possible it could be broken up and sold off.
LaVera said that in a worse-case, liquidation scenario, the DOE is high on the list to get back at least some of the $527 million Solyndra drew from the loan.
There has been talk from critics that Solyndra received the money in part because one of the company's main financial backers, billionaire George Kaiser, is also a big Democratic campaign donor.
"That is absolutely untrue," LaVera said, noting that the loan application was submitted under the Bush administration and mostly complete by the time Obama took office.
"Sophisticated, professional private investors, who put more than $1 billion of their own money behind Solyndra, came to the same conclusion as the Department: that Solyndra was an extremely promising company with innovative technology and a very good investment," he said.