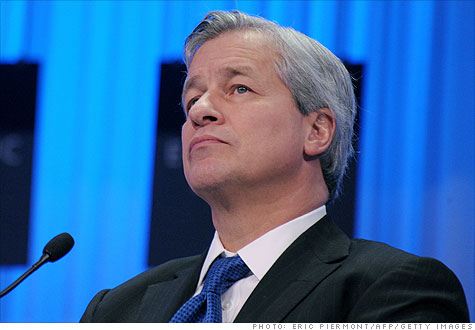 JPMorgan Chase Chairman and Chief Executive Officer Jamie Dimon is concerned about global banking rules.
WASHINGTON (CNNMoney) -- JP Morgan Chase chief Jamie Dimon calls new bank rules being developed by global finance ministers "anti-American," and says the United States should consider pulling out, according to an interview published Monday.
The banking chief, who still talks with President Obama from time to time, complains in an interview with the Financial Times about global rules for bank capital that would require all banks, not just those in Europe, to hold more cash at home. The idea is to create a bigger capital cushion to protect banks from teetering toward crisis, as they did in the fall of 2008.
Dimon said the global rules are forcing the giant "too-big-to-fail" banks, including JP Morgan (JPM, Fortune 500) and four others in the United States, to have the thickest layer of cushion, according to the FT. That means the big banks would have less money available to chase profits, either through loans or financial bets.
Dimon told the Financial Times that the rules would give European banks and Asian banks a competitive upper hand.
But Dimon, who has a reputation as a political powerbroker, is hardly an unbiased observer. He worked behind the scenes to water down new U.S. rules for debit cards and derivatives, the complex financial transactions whose abuse forced taxpayers to bail out insurer American International Group Inc (AIG, Fortune 500).

Other U.S. banking organizations agree with Dimon that the group of international bankers creating the capital rules is not being fair.
The rule makers are poised to let European banks count as safe capital a special type of bond that may be more risky than many assume. That would put U.S. banks at a competitive disadvantage, the organizations say.
Dimon believes securities based on mortgages owned and backed by the U.S. government should be considered just as safe. And preferential treatment to one region could cause U.S. banks to lose market share, U.S. banking groups say.
"Unless these regulations are implemented across the globe, countries will have opportunities for regulatory arbitrage," said Scott Talbott, senior vice president for government affairs at the Financial Services Roundtable.
Separately, agency regulators are working on U.S. rules for capital requirements, as well as rules for banning banks from engaging in trades for their own accounts. They're also working on rules to regulate big firms that issue swaps, or financial bets. All of these changes are part of the financial reform package -- the Dodd-Frank law -- that was approved last year.
While the federal government has missed and pushed back several deadlines, bank lobbyists who are meeting regularly with regulators say that they don't see signs that bank regulators plan to go easier on them.
"We believe regulators have decided that their initial Dodd-Frank proposals need to hew close to the text of the legislation, even if the agencies believe a more moderate interpretation is warranted," said Jaret Seiberg, a financial policy analyst with MF Global in Washington.