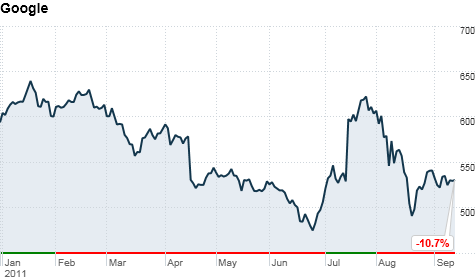 Click the chart to track Google's stock.
NEW YORK (CNNMoney) -- The stock rally now into its third day on Wednesday is certainly a welcome break, given the constant bombardment of bad news coming from Europe. Still, the Continent's credit crisis continues to be a major source of concern for investors.
Meantime, two big players in the online world, Yahoo and Google, are attracting plenty of investors' attention.
Hedge fund activist investor Dan Loeb continues his crusade to "renovate" Yahoo (YHOO, Fortune 500). His latest target is the online media giant's board of directors, where Loeb is pushing for drastic changes in the aftermath of the recent shake up in Yahoo. That management change has been serving the stock well so far. It appreciated more than 6% for the past five days, while the S&P 500 is down 2% over the same time.
Another interesting development online came from Google (GOOG, Fortune 500). The world's biggest search engine announced the launch of its flight search application, which lets people browse different airline route options and purchase tickets directly from carriers' websites.
Investors are pondering how this latest innovation will affect other online travel services like Priceline (PCLN), Expedia (EXPE) and Travelzoo (TZOO). But as of yet, there are no significant changes in their shares.
The stock market often tends to discount expected events in advance. In this case, investors are either saying Google's new product is a nonevent, or they're patiently waiting for the next earnings reports from the travel sites.
These are some of the themes gaining interest on StockTwits this Wednesday:
AronPinson: Note to all Chairman of Boards: Don't hang up on an activist shareholder that owns >5% of your company's stock. $YHOO
MaysReport: 3rd Point warned that it would try to remove Yahoo Chairman Roy Bostock and directors at the next annual meeting. $YHOO
mohannadaama: Only issue I have with Dan Loeb on $YHOO is that he did not ask for ouster of Jerry Yang. Maybe a divide and conquer tactic.
herbgreenberg: Tried $GOOG's new flight search early this a.m. I have to admit: It's very smooth/fast. Question: Who loses?
tradermarsh: Google Flights Search Is a Powerful, Intuitive, Lightning Fast Tool for Finding Cheap Tickets. $GOOG
dschorrnyc: Google continues its expansion to everywhere. Introduces Flight Search. $GOOG