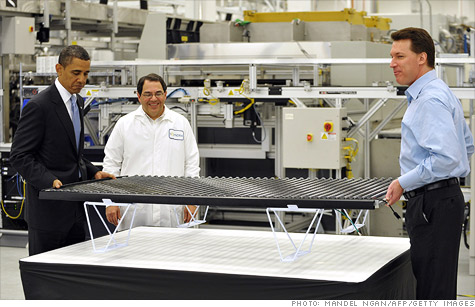 Republican's use the failure of solar panel maker Solyndra to suggest government support for green projects should end.
NEW YORK (CNNMoney) -- Until recently, few outside the solar power industry had even heard of Solyndra Inc.
Now the company's bankruptcy has become a case study on an issue likely to gain increasing attention: Should the government be investing taxpayer dollars in promising -- but risky -- startup companies?
The issue was on full display Wednesday at a congressional hearing.
Rep. Cliff Stearns, a Republican from Florida, said the Department of Energy's decision to back a $535 million loan to the company, which makes solar energy panels, highlights the danger of government funding for private companies.
"Taxpayers may be better served by putting that money towards reducing the deficit," said Stearns.
The Department of Energy backed a loan to Solyndra in 2009 as part of a stimulus-funded effort to support renewable and clean energy technology.
So far, the department has backed nearly $40 billion in projects that range from solar and wind farms to nuclear power plants.
Republican attacks on the program have stepped up considerably since Solyndra declared bankruptcy late last month.
In addition to the philosophical differences with encouraging government funding for private companies, critics say the Department of Energy failed to adequately vet Solyndra's business model, maybe out of an effort of get stimulus money out quickly, or perhaps due to the company's tight relationship with administration officials.
They point out that one of the company's main financial backers, billionaire George Kaiser, is also a big Democratic campaign donor.
Energy Department officials defend the decision to back Solyndra. They say that the company's loan application was nearly complete before President Obama even took office and that the private sector gave the company billions in additional funding.
It is believed that Solyndra's bankruptcy was largely caused by the falling price of traditional solar panels -- a plunge that in turn made Solyndra's more advanced design less competitive.
Energy Department officials say that government backing for cutting-edge energy technologies like the type Solyndra was working on is essential if the United States is going to compete with countries like China and Germany, which lavish vast amounts of money on their own renewable energy companies.
"No country has been as aggressive as China, which last year, alone, provided more than $30 billion in credit to the country's largest solar manufacturers through the government-controlled China Development Bank," Jonathan Silver, the DOE official in charge of the loan program, told a House panel. "That's roughly 20 times larger than America's investment in the same time period."
Potentially tens of thousands of new jobs are at stake, he added.
During testimony, Silver said the Energy Department is not trying to pick winners or losers in private sector, but merely assist companies that have already received substantial support from venture capitalists.
But the Energy Department also has questions about Solyndra. Last week, agents from its inspector general's office, along with the FBI, raided the company's California headquarters.
Neither agency would comment on the nature of the raid, but the DOE inspector general typically investigates allegations of fraud or wrongdoing at the agency and within entities the agency does business with.
Other critics took issue with the Energy Department's defense of loan guarantees.
Venture capital decisions in this country, they say, are best left to venture capitalists, not the government.
"If [start-up companies] can get substantial funding from the private sector, why can't they get all of it," said David Kreutzer, an energy economist at the Heritage Foundation, a conservative think tank.
Kreutzer didn't buy the rationale that if the Chinese are doing it, then so should the United States.
"China doesn't have a free market, any investment they make involves their government," he said. "If the Chinese want to provide the world with below-cost solar panels, let them. That's not a strategy that likely to end well."
But Massachusetts Democrat Ed Markey pointed out in the hearing that oil and gas companies get plenty of tax breaks and other incentives from the government as well. Markey suggested the criticism of Solyndra and the administration had less to do with the fact that the company failed and more to do with protecting the interests of the fossil fuel industry.
"This is all part of an agenda that deals with the solar industry, the wind industry," he said.