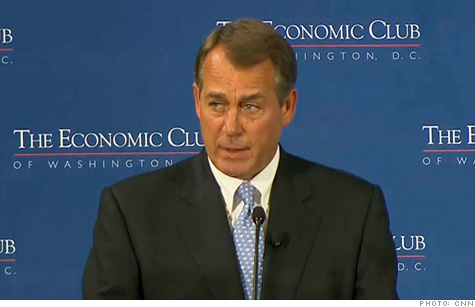 House Speaker John Boehner said tax hikes "are off the table" for the debt super committee.
WASHINGTON (CNNMoney) -- House Speaker John Boehner drew a line in the sand on taxes on Thursday, saying that a special debt committee tasked with cutting at least $1.2 trillion from federal deficits shouldn't consider tax hikes.
"Tax increases, I think, are off the table," Boehner said in a speech to the Economic Club of Washington, D.C. "It's a very simple equation. Tax increases destroy jobs. And the Joint Committee is a jobs committee. Its mission is to reduce the deficit that is threatening job creation in our country."
The only things the 12-person super committee should tackle are spending cuts and entitlement reform, he said.
Congress established the super committee when it raised the debt ceiling this summer. It has until Nov. 23 to propose ways to reduce deficits, and Congress must hold an up or down vote by Dec. 23. That panel started meeting last week.
Boehner's marching orders contrast with a more cordial tone the GOP has taken this past week in reaction to President Obama's new jobs package.
But his stance warning against new tax hikes reflects the message that GOP leaders have sent this week on the president's push for a new jobs bill.
President Obama is expected on Monday to detail his debt-reduction ideas for the super committee.
In his speech on Thursday, Boehner also took a whack at Obama's jobs proposal, which he called a "poor substitute for the pro-growth policies that are needed to remove barriers to job creation in America."
"If we want job growth, we need to recognize who really creates jobs in America," Boehner said. "It's the private sector."
The Ohio Republican went on to detail a list of ways he says Washington has failed the economy, implying the blame lies with Democrats.
Boehner pointed to a constant "threat of new taxes, out-of-control spending and unnecessary regulation from a government that is always micromanaging, meddling and manipulating."
He hit Democrats hard on new regulations and any talk of raising taxes.
But he also hit the president on his proposal to carve out additional tax breaks for small businesses, a policy many Republicans agree with.
"It strikes me as odd that at a time when it's clear that the tax code needs to be fundamentally reformed, the first instinct out of Washington is to come up with a host of new tax credits that make the tax code more complex," Boehner said.
Separately, House Minority Leader Nancy Pelosi criticized Republicans on Thursday for giving ultimatums and not working together.
"I don't think that any of us should go in there with lines in the sand about taxes or entitlements," Pelosi said.
-- CNN's Deirdre Walsh contributed to this report.