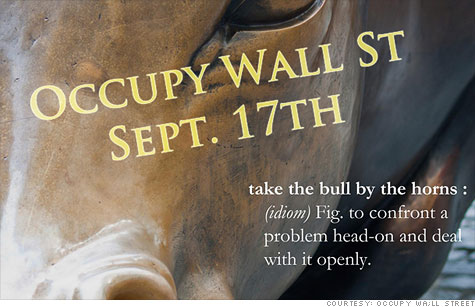 A flyer for Occupy Wall Street, in which thousands of protesters are slated to flood the Manhattan financial center.
NEW YORK (CNNMoney) -- Hundreds of protestors took to the streets of Manhattan's financial distric Egyptians did it for democracy. So did people in Tunisia, Yemen, Bahrain and Syria. Now, activist groups are hoping Americans will launch their own uprising -- in the form of thousands of protesters descending on Wall Street this weekend.
Occupy Wall Street is a "leaderless resistance movement" spearheaded by activist magazine Adbusters. Organizers want people to swarm into lower Manhattan on September 17 and set up camp for two months, then "incessantly repeat one simple demand."
What's that demand? They haven't decided yet.
The plan is to crowdsource the decision. Protestors are set to meet and discuss the issue at the iconic Wall Street Bull statue at noon Saturday, as well as at a "people's assembly" at One Chase Manhattan Plaza at 3 p.m.
The protestors' demand will likely be focused on "taking to task the people who perpetrated the economic meltdown," says Kalle Lasn, the editor-in-chief of Adbusters.
"The demand could be some stupid lefty thing like 'overthrow capitalism,'" Lasn says. "We're hoping it's something specific and doable, like asking Obama to set up a committee to look into the fall of U.S. banking. Nothing extreme about that."
Lasn says editors at Adbusters, which has a worldwide circulation of 100,000 readers, are angry that leaders in the financial sector "had not been brought to justice." Their inspiration came when pro-democracy uprisings broke out in Egypt on January 25 and quickly spread to other countries.
"We thought, why isn't there a backlash here?" Lasn says. "We need to shake up the corporate-driven capitalist system we're in. To do that, we needed something radical."
Adbusters posted a call to action on its blog July 13 -- originally asking for 20,000 people to join the protest -- and word spread quickly around the Internet. (See correction below.) A total of 74 cities around the world are participating in "solidarity actions," and the event's official site will stream live shots of those events. The Wall Street headquarters is planning yoga classes, tai chi and music.
Last month, cyberactivism group Anonymous released a video in support of the protest.
"It gave us a nice bit of street cred, some mystique. We lefties need a lot of mystique," Lasn says with a laugh.
That mystique is what drew Josh Dworning, a 20-year-old college student, to shell out $300 for a 24-hour train ride from Florida to New York.
"I heard about the protest through StumbleUpon, and I just really agreed that there's widespread discontent with the banks and corporations," Dworning says. "I'm no crazy radical, just a student who believes in something."
Dworning is planning on sleeping in a tent near Wall Street on Saturday night, and he's "planning on staying as peaceful as possible" -- though he'll be on alert, because "there's always the chance that someone can get a little too angry and throw a brick or something."
That's what scares Dworning's mom, Jeanne Molle, who says she's "a nervous mother watching her son get involved in a large-scale event in the world's largest city."
Lasn is hoping safety won't be an issue. A "Gandhi-like peaceful protest" is the only way the event will work, he says, though he acknowledges that central control is impossible over a group that organizers hope will swell to 20,000. And "there is a question of legality" around setting up tents and barricades, he acknowledged.
The New York Police Department says it is prepared to deal with any situations that arise.
"The NYPD is aware of various protests and we have planned accordingly," Deputy Commissioner Paul Browne told CNN.
In a September test run of the occupation, nine people were arrested for disorderly conduct, and later released without being charged.
"It takes a lot to rise up and reform the global economic system," Lasn says. "And maybe this time we fail. But if we do, we're just setting the tone for the next revolution."
-CNN's Susan Candiotti contributed reporting.
Correction: An earlier version of this article incorrectly reported how many protesters Adbusters called for at Occupy Wall Street.