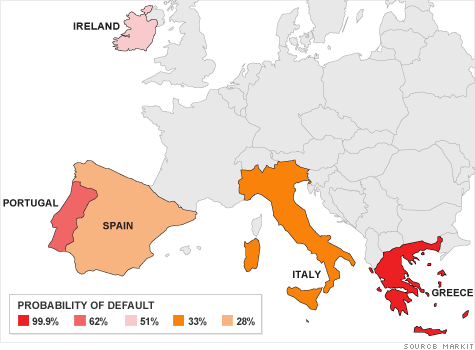 Risk of a Greek default is 100% according to credit default swap traders, while the probability is rising in Portugal, Italy, Ireland and Spain.
NEW YORK (CNNMoney) -- Experts agree it's almost certain that Greece will not be able to pay all of its debts. But if the country does default, what happens next?
Greek leaders are struggling to agree to a set of painful budget cuts, including layoffs and new taxes, in order to get the next round of bailout cash from its European partners. Greece is also in the midst of a painful recession, which is cutting tax collections and causing it to sink even deeper into the deficit hole.
And even if Greek and European officials can agree on deficit reduction measures, the bailout plans need to run a gauntlet of votes in 17 separate European parliaments.
Last week, just the news that the Austrian parliament had failed to set a timetable for a vote sent European and U.S. markets sharply lower.
Meanwhile, investors trading in credit default swaps, which are essentially bets on whether or not there will be a default, are now pricing in nearly a 100% chance of default on Greek debt.
A default in Greece could cause investors to flee the debt of other troubled European economies, including Portugal, Ireland, Italy and Spain. Investors trading in credit default swaps are now placing the chance of default in those countries at between 28% to 66%.
While Greece has only about €300 billion ($411 billion) in outstanding debt, believed to be mostly in the hands of European banks, adding all five countries' debt together comes to €2.8 trillion ($3.8 trillion).
Spain and Italy are particularly worrisome. If those countries were to default, European authorities would not have enough money to bail them all out.
"They can survive a Greek default. They can arguably survive if Portugal and Ireland go down as well," said Jay Bryson, international economist with Wells Fargo Securities. "But you include Italy and Spain, now we're starting to talk some real money here. You could easily be talking €1 trillion in writedowns. That would be a disaster."
While some experts hope there can be an orderly, pre-approved default on Greek debt that wouldn't ripple through the financial system, the bankruptcy of Lehman Brothers in 2008 proved no one can know what the implications of a default would be.
"I don't know if 'controlled default' is an oxymoron," said John Makin, resident fellow at the American Enterprise Institute, a think tank. "It's a very difficult situation to control. We're more ready for it this time than we were in 2008. U.S. banks are better capitalized, so we should be able avoid the seize-up scenario. But it's still touch and go."
And a wave of European debt defaults will topple Europe into recession, which would hit a U.S. economy already at risk of falling into a double-dip recession.
"European financial stress clearly has implications for the economic outlook outside the eurozone," wrote the economists at Goldman Sachs in a note Monday. "U.S. growth could be affected via three main channels: tighter U.S. financial conditions, decreased credit availability and weaker US exports."