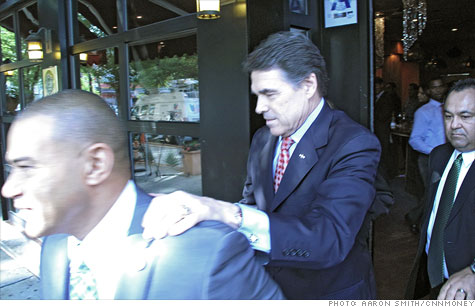 Gov. Rick Perry of Texas followed supporter Fernando Mateo out of his wife's restaurant in a quick visit to New York City.
NEW YORK (CNNMoney) -- Gov. Rick Perry of Texas, a Republican candidate for the presidency, dropped into New York City on Monday to court the support of Hispanic business owners.
Perry met with dozens of supporters at Papasito Mexican Grill and Agave Bar in the heavily Hispanic neighborhood of Inwood in the northern part of Manhattan. He came at the request of Fernando Mateo, a stockbroker who owns several taxi companies and a construction company, and whose wife is an investor in Papasito.
Perry rushed into the restaurant and didn't talk to reporters. The meeting was not open to the press.
Mateo said the governor was there to "listen to the concerns of small business people, listen to the concerns of the immigrant community."
Mateo said that he is supporting Perry in his bid for the White House because he opposes President Obama's plan to raise taxes on people who make more than $250,000 per year.
"It would basically take all the incentive, when you tell me that after working seven days a week, 18 hours a day, that I need to pay more taxes because you believe I'm a millionaire," he said. "What you need to do is give the tax breaks so [the business owners] can open another business and employ 40 or 50 people."
He also agrees with Perry's immigration views. Perry believes that immigrants who were brought to this country as small children should be able to get a driver's license and to pay tuition as in-state residents -- even if they entered the country illegally.
"The kids [were brought here] unwillingly," said Mateo. "All they know is life in the U.S. We're not condoning what their parents did."
Rep. Charles Rangel, a state Congressman and a Democrat representing upper Manhattan, was more garrulous with reporters than Perry, but he admitted that he didn't have much to say.
"I'm here for the same reason that you're here, to find out why he's here," said Rangel, when he arrived at Papasito.
Rangel left a short time later, apparently while Perry was still speaking. A reporter asked Rangel if the event was a fundraiser, and he said, "I don't know how he's going to conclude, but I got out before he asked for money."
Later on Monday Rangel released a statement that said, "No one should contest the fact that millionaires and billionaires and big corporations should make a shared sacrifice to help balance the federal budget at a time when they are making record profits on the backs of the middle class."