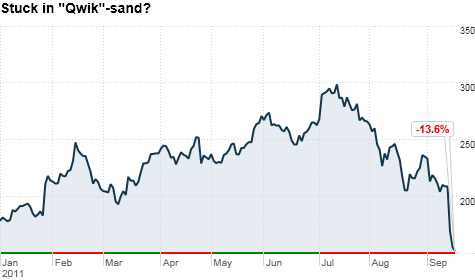 Shares of Netflix have plunged on concerns about angry subscribers leaving after price hikes. Changing the DVD service's name to Qwikster may not help. Click chart for more on NFLX.
NEW YORK (CNNMoney) -- Netflix CEO Reed Hastings apologized to angry customers after the company's price hike debacle. Does he need to make amends with Netflix shareholders too?
Shares of Netflix (NFLX) plunged 19% Thursday and another 8% Friday after the company cut its guidance for subscribers in the U.S. The stock, which had been one of Wall Street's hottest this year until Netflix announced the price increase in July, has plunged more than 50% from its 52-week high.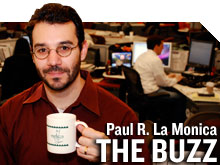 Hastings tried to end the controversy by announcing that going forward, Netflix's DVD and streaming businesses will be separate. The mail order DVD unit is being awkwardly renamed Qwikster.
Netflix rebounded a bit Monday morning on the Qwikster news, but wound up plunging again in late trading as the broader stock market declined on more Europe fears. Netflix finished Monday down more than 7%.
So it looks like the birth of Qwikster and Hastings' mea culpa aren't putting an end to the company's problems just yet. Here's why.
Even after last week's huge sell-off, Netflix remains a very pricey stock that has room to fall. Shares trade at about 35 times 2011 earnings estimates and nearly 25 times profit forecasts for 2012.
If you are willing to pay that much for Netflix, you can't afford mishaps like lowering subscriber targets by a million.
Even though Netflix did not change its revenue or profit outlook, some analysts wonder if consensus earnings estimates are now too high, given the reduction in subscribers.
Michael Corty, an analyst with Morningstar in Chicago, has an earnings target of $5.80 a share for Netflix in 2012. That's more than a dollar a share below the average estimate of analysts. Corty thinks a fair value for Netflix is $150 a share. That's a little bit lower than where the stock was trading Monday.
Netflix is clearly a great company, and it is still a leader in a dynamic business. But there is a big target on its back.
Netflix has attracted a large crowd of skeptical short sellers who look at the company's valuation and see an opportunity to take advantage of the shift in momentum.
As of late August, more than 8.5 million shares of Netflix were held by investors who believe the stock will go down. That amounts to about 17% of the company's available shares, or float. That's a fairly high amount.
Netflix also is going to face more attention from larger competitors.
Now that Netflix is demoting the DVD business by separating it from the more lucrative streaming operations, investors have to stop comparing Netflix with companies like Coinstar (CSTR)-owned Redbox and Blockbuster, which was acquired out of bankruptcy by satellite television firm DISH Network (DISH, Fortune 500).
The real rivals for Netflix are companies like Amazon (AMZN, Fortune 500), Apple (AAPL, Fortune 500) and Google (GOOG, Fortune 500), especially if one of those three winds up acquiring the online video service Hulu. That's daunting.
And even before the price hikes alienated customers, many subscribers complained that Netflix wasn't offering as much compelling video online as it does through the DVD catalog. That could remain a problem.
"Business is going to get a lot more competitive as Netflix goes from DVDs to streaming," Corty said. "There's a lot of talk about how great online video is, but the available streaming content for Netflix is pretty weak."
Of course, that can change. But Netflix will have to pay a pretty penny to Hollywood to get the most current and popular movies and TV shows.
The contract dispute between Netflix and cable network Starz (which has licensing agreements with several major studios) illustrates the difficulties Netflix will continue to face.
"Media companies are in a better position than Netflix to decide on licensing content and choosing their terms," Corty said.
And if that wasn't enough to scare Netflix investors, the company also announced Monday that it is getting into the video game rental business. That's a big risk.
"Economic success is not a given, since games are materially more expensive than DVDs and have a substantially shorter life span than movies," wrote Youssef Squali, an analyst with Jefferies & Co. in New York in a note to clients Monday. "We note that Netflix has historically shied away from games exactly for these two reasons."
Finally, the split of the streaming and DVD units may have some unintended negative consequences for Netflix.
Tony Wible, an analyst with Janney Capital Markets in Philadelphia who has a "sell" rating on the stock, said that investors may be surprised once Netflix starts to break out specific revenue and earnings figures for Qwikster.
"By separating the businesses, the sum of the parts may be less than the whole," Wible said. "Netflix has had an irrational multiple because of hopes about the streaming division."
Wible said that the DVD business probably only deserves to trade at between 8 and 10 times earnings estimates on a standalone basis. So having more concrete numbers for the DVD business could drag down Netflix's overall valuation.
All that said, Wible didn't think that Netflix had any other options than to split Qwikster from streaming, given the customer backlash.
"This may be the best of bad alternatives for Netflix," he said.
Investors hoping to make a quick -- or is it qwik? -- buck on a Netflix rebound might want to think again before buying.
The opinions expressed in this commentary are solely those of Paul R. La Monica. Other than Time Warner, the parent of CNNMoney, and Abbott Laboratories, La Monica does not own positions in any individual stocks.