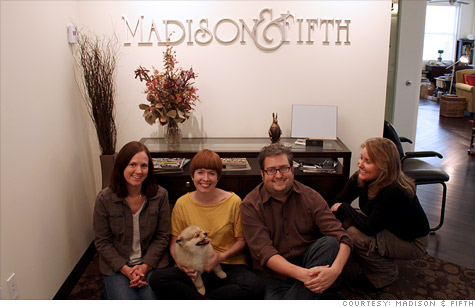 Chris Shirer (R), president of the small digital marketing company Madison & Fifth, said what she really needs is access to capital.
NEW YORK (CNNMoney) -- The $447 billion stimulus plan that President Obama unveiled earlier this month won't change hiring plans for many small businesses, according to a survey released Tuesday.
Almost 70% of small businesses polled said that the plan, should it pass, would not spur them to add jobs, said Manta, a small business website.
Of the 1,648 businesses polled, only 11% of those businesses said they would hire if the jobs package becomes law. Another 13% said it depends on what version of the proposal is passed. Another 7% said they just weren't sure.
The American Jobs Act promises to cut the payroll tax businesses pay in half -- to 3.1% -- on the first $5 million in wages. Also, if a business hires a new worker or gives an existing worker a raise, all payroll taxes will be waived. The act would also extend a tax benefit allowing businesses to write off their expenses more quickly.
The president said it would also reduce regulatory burdens for small businesses looking to obtain capital. But it gave few details.
'Crisis of Confidence': "I have a crisis of confidence problem," said Chris Shirer, the CEO of Madison & Fifth, a 10-year-old digital marketing firm in Columbus, Ohio.
Shirer is giving raises and bonuses with any extra money she makes to her staff of four people. She would be eligible for some tax relief for the raises. "That is great, "she said. "But I was going to give those raises anyway."
The most pressing issue is access to capital. "I am not somebody who makes widgets," said Shirer. Manufacturing businesses have machines and equipment that they use to back loans. Shirer doesn't have heavy machinery or equipment for collateral. Still, she needs capital for hiring and marketing.
But her experience getting it from a bank has not been good. During the recession, her bank slashed her credit line and raised her interest rate. She attempted to apply for a loan through the Small Business Administration, but filling out the paperwork was so complicated that she gave up in frustration.
Two-thirds of small businesses "highly unsatisfied" with the government: "There is this weird dance going on between the government and the banks that is hogtying businesspeople," said Shirer.
She doesn't have much more confidence in the nation's political leaders. She gives the president's stimulus plan a 50% chance of being passed. "They are in a seemingly intractable battle with each other," said Shirer about the president and Congress. "I don't think these folks can talk to each other."
Shirer is not alone in her frustration with the government. Two-thirds (67%) of the 2,324 businesses that Manta polled at the end of August said they are "highly unsatisfied" with the government's effectiveness. By contrast, only 2% of the respondents were "highly satisfied."
When asked which political party best supports small business, more than one- third of respondents (35%) answered "none."
A boon for some: Despite widespread dissatisfaction with the proposed legislation, the tax credit would encourage some small businesses to hire.
"We would add probably one to two extra employees with the tax incentives," said Jim Janosik, the owner of GoGreenPrinting.Biz, an environmentally friendly printing company, in Columbus, Ohio.
He has been thinking off adding to his staff of three. If the jobs bill were passed, "it would drive us to do it sooner, rather than later," he said.
Janosik was mostly pleased with the president's proposal and expects it to pass. "There is more good than bad in this proposal," he said. "I do have faith that it will pass, but it won't be his exact plan."