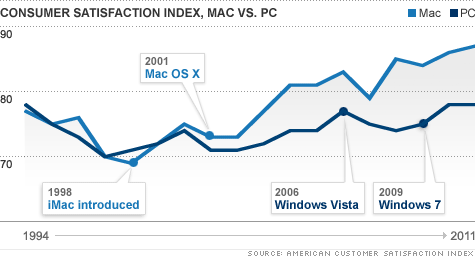 NEW YORK (CNNMoney) -- Americans' satisfaction with their personal computers is at an all-time high, but buyers' happiness with Apple's Macs continues to top Windows PCs.
An American Customer Satisfaction Index report released Tuesday shows that consumers are the happiest that they've ever been with their computers. The 16-year old survey found that PCs scored a rating of 78 out of 100, matching the record score set last year.
Ironically, Hewlett-Packard (HPQ, Fortune 500) was the only Windows PC manufacturer to score a higher rating this year than in 2010. HP decided last month to get out of the PC business.
HP's score of 78 was up one point from the 77 it scored in 2010. Compaq, a low-end HP brand, had a satisfaction score of 75 in the 2011 survey, up from 74 last year.
Other Windows PC makers, including Dell (DELL, Fortune 500), Acer and some smaller manufacturers like Toshiba, Lenovo and Sony (SNE), all achieved the same ratings this year as they did in 2010: They all tied with a satisfaction rating of 77.
This year was the first since 2008 that PC satisfaction didn't rise. Last year, all PC makers' scores had risen about 4% from 2009.
But Apple's (AAPL, Fortune 500) satisfaction rating climber higher this year, blowing past its rivals with a score of 87, up from 86 in 2010. This year marks the eighth straight year in which Apple led the PC category.
"Apple's customer satisfaction dominance has been unassailable for the past eight years," said Claes Fornell, founder of the ACSI, an Ann Arbor, Mich.-based research group. "Apple's winning combination of innovation and product diversification has kept the company consistently at the leading edge."
ACSI noted that Apple's recent dominance in PC satisfaction is fed by the company's halo effect from its other devices. Apple dominates the portable music player market with its iPod lineup, it jump-started the smartphone market with the iPhone, and it reinvented the tablet market with the iPad.
Apple says that by creating great customer experiences around its popular devices, it can generate positive associations with its other products, including its Macintosh line.
The iPad may boost Mac sales, but it's having the opposite effect on Windows PC sales.
PC sales have tumbled in the United States. The unstable economy has contributed significantly to that, but the iPad has also chomped away at the PC. When HP decided to exit the PC business, CEO Leo Apotheker cited as a prime reason that "the tablet effect is real."
The good news for PC makers is that Microsoft (MSFT, Fortune 500) has gotten the message loud and clear. Windows 8, which is expected to debut sometime next year, will be optimized for tablets.
Still, Apple's PC market share is growing fast. In the United States, it commands just shy of 11% of the market, good enough for third place, according to Gartner. Sales at market leaders HP and Dell are sinking.
People may love their Windows computers, but PC makers are finding affection doesn't always translate into robust sales.