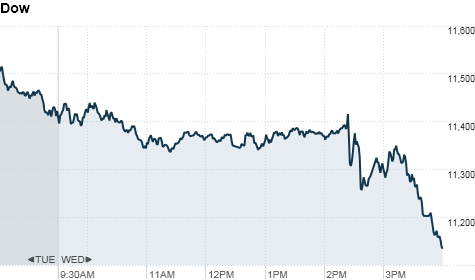 Click the chart for more stock market data.
NEW YORK (CNNMoney) -- Investors aren't digging the Twist. Stocks plunged after the Federal Reserve made it official -- no change in rates and Operation Twist is a go.
Stocks ended near the lowest levels of the day after the Fed said it will shift $400 billion from short-term Treasuries into long-term Treasuries in an effort to boost lending and spur the economy.
While Operation Twist was exactly what investors had been anticipating, meeting expectations with the bare minimum came up short of pleasing them.
The Dow Jones industrial average (INDU) dropped 284 points, or 2.5%, with all but one of the blue-chip index's 30 components closing in the red.
Hewlett-Packard (HPQ, Fortune 500) was the only Dow component that traded higher, spiking almost 7% amid rumors that HP's board is considering a shakeup that would include replacing current CEO Leo Apotheker.
The S&P 500 (SPX) fell 35 points, or nearly 3%. Even the tech-heavy Nasdaq composite (COMP), which had been trading higher most of the day, closed down with a drop of 52 points, or 2%.
"Operation Twist was priced into the market, and investors needed a twist on the twist -- something more," said Doug Roberts chief investment strategist for Channel Capital Research.
While the Fed said it will also reinvest the proceeds from maturing mortgage-backed securities into more mortgage-backed securities, Roberts said that additional step is still lacking.
What would help satisfy financial markets is if the Fed were to bite the bullet and pump more money into the economy with another round of Treasury buying, or QE3, he added.
But experts said the Fed, which is running out of policy tools, will probably hold back from expanding its balance sheet unless investors and consumers grow warier.
"By not mentioning QE3, it definitely appears that the central bank is saving their few remaining bullets in case the volatility in financial markets intensified or the U.S. economy falls into recession," said Kathy Lien, director of currency research at Global Forex Trading.
Mounting concerns about the economy kept pressure on transportation stocks Wednesday, as investors feared that truckers and shippers may suffer a slowdown in business along with the slowing economy.
The Dow Jones Transportation Average (DJT), a collection of 20 truckers, shippers, railroads and airlines, tumbled 5.3%, with railroad giants GATX (GMT), CSX Corp. (CSX, Fortune 500) and Norfolk Southern (NSC, Fortune 500) leading the decline.
Meanwhile, investors quickly moved into U.S. Treasuries, sending the 10-year Treasury yield to a fresh record low around 1.858%.
Aside from the Fed, investors remained on edge over the developing situation in debt-stricken Greece.
Evangelos Venizelos, the Greek finance minister, told Parliament that more budget cuts would be needed in order for the country to get back on track.
Venizelos had held two days of talks with officials from the European Union, European Central Bank and International Monetary Fund in an effort to gain consensus on measures needed to secure the next installment of Greece's bailout. Talks are expected to continue this weekend in Washington, D.C., where the IMF and World Bank are meeting.
"There have been a lot of conversations, and statement of support for Greece, but the market's have heard enough. We need action," said Rob Lutts, chief investment officer at Cabot Money Management. "Investors want to know and see who will put up money to bailout Greece and how much Europe's banks will lose in the event of a restructuring or default."
On Tuesday stocks erased most of the day's gains, as investors grew wary about Greece's situation.
Economy: The National Association of Realtors said existing home sales rose 7.7% in August to an annual rate of 5.03 million homes. Economists were expecting sales to have risen only 0.6% during the month.
Companies: In yet another blow to the financial sector, Moody's Investors Services announced the downgrade of Citigroup (C, Fortune 500), Wells Fargo (WFC, Fortune 500), and Bank of America (BAC, Fortune 500), three of the United States' top banks.
Shares of BofA fell 7.5% following the rating agency's move. Shares of Wells Fargo slipped 4%, and Citigroup's stock fell 5%. Share of JPMorgan Chase, also took a slide, falling almost 6%.
Shares of General Mills (GIS, Fortune 500) edged up 2.5% after the company reported better-than-expected earnings and reaffirmed its guidance.
Software maker Adobe Systems' (ADBE) stock rose 1% after the software maker beat third-quarter earnings estimates and raised its revenue guidance after the closing bell Tuesday.
Shares of Alpha Natural Resources (ANR) dropped 17% after the coal producer cut its shipment forecast for the year. Stocks of other coal giants, including Patriot Coal (PCX), Arch Coal (ACI), Consol Energy (CNX, Fortune 500) and Peabody Energy (BTU, Fortune 500), also fell sharply.
Retailer Bed Bath & Beyond (BBBY, Fortune 500) will post results after the market close.
World markets: European stocks ended lower. Britain's FTSE 100 (UKX) shaved 1.7%, the DAX (DAX) in Germany lost 2.5% and France's CAC 40 (CAC40) fell 1.4%.
Asian markets ended mixed. The Shanghai Composite (SHCOMP) jumped 2.7%, the Hang Seng (HSI) in Hong Kong lost 1% and Japan's Nikkei (N225) added 0.2%.
Currencies and commodities: The dollar rose against the euro, the Japanese and the British pound.
Oil for November delivery slipped $1.00 to settle at $85.92 a barrel.
Gold futures for December delivery fell $1.00 to settle at $1,1808.10 an ounce.