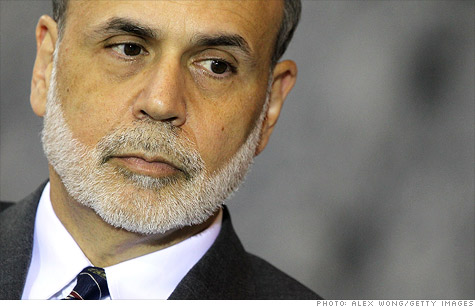 NEW YORK (CNNMoney) -- The Federal Reserve announced "Operation Twist" Wednesday, a widely expected stimulus move reviving a policy from the 1960s.
The policy involves selling $400 billion in short-term Treasuries in exchange for the same amount of longer-term bonds, starting in October and ending in June 2012.
While the move does not mean the Fed will pump additional money into the economy, it is designed to lower yields on long-term bonds, while keeping short-term rates little changed.
The intent is to thereby push down interest rates on everything from mortgages to business loans, giving consumers and companies an additional incentive to borrow and spend money.
"This program should put downward pressure on longer-term interest rates and help make broader financial conditions more accomodative" the Fed said in its official statement.
It's controversial to say the least, especially following a high-profile letter from Republicans earlier this week, urging the central bank not to intervene in the economy more than it already has.
And even within the Fed, three regional bank presidents, Richard Fisher of Dallas, Narayana Kocherlakota of Minneapolis and Charles Plosser of Philadelphia, dissented against the decision. Those same three dissented in August.
While the launch of Operation Twist was widely expected, experts still question its effectiveness. Interest rates have already been at record lows since 2008, and that has yet to entice consumers to take out loans.
"This is not a situation where people are saying, 'gee, I really want to buy that house but interest rates are too high'," said Frank Sorrentino, CEO of North Jersey Community Bank. "Rates are already at historic lows and over the last six to nine months, we have not seen loan demand go up."
Plus, the Fed could lose money on longer-term Treausries because inflation could outpace the interest rate over time, cutting into the returns on the bonds.

The Fed is also trying to help homeowners specifically, targeting mortgage rates by reinvesting proceeds from maturing investments in mortgage-backed securities. Previously, the Fed had been reducing its holdings of mortgage securities to reinvest that money in Treasuries instead.
"It's a moderate way of having an effect on the housing market," said Justin Wolfers, economics professor at University of Pennsylvania's Wharton School. "Those who refinance will find more money in their pocket at the end of the month."
Let's twist again
But many economists today view the policy as a failure, arguing that it may have been too small to have a significant impact.
Totaling $8.8 billion, the original Operation Twist was roughly equal to 1.7% of the total U.S. economy in the early 1960's.
"It changed rates maybe 0.1% to 0.2% at the time, but that wasn't enough to get much happening in the economy," said Dean Croushore, chair of the economics department at the University of Richmond and former vice-president of the Philadelphia Fed. "That's the only time we've tried it before, and we lack a good amount of empirical data to figure out how much difference a bigger amount might make."
The second rendition, at $400 billion, is equivalent to roughly 2.7% of today's gross domestic product.

The launch of Operation Twist follows the Fed's sixth policymaking meeting of the year, which due to weakness in the economy, was rescheduled to last two days instead of the original one.
Speaking in August, Fed Chairman Ben Bernanke said the meeting had to be extended "to allow a fuller discussion" of what the Fed should do to respond to "disappointing" growth.
At the Fed's last official meeting in August, the policymaking committee decided to keep interest rates low until 2013 -- a move that was widely interpreted as a sign that the central bank is not expecting the economy to improve much for at least another two years.
On Wednesday, the Fed reiterated its gloomy outlook, saying "economic growth remains slow."
Reporters and markets eagerly awaited the announcement, which came eight minutes late due to a paper jam in a government copy machine.