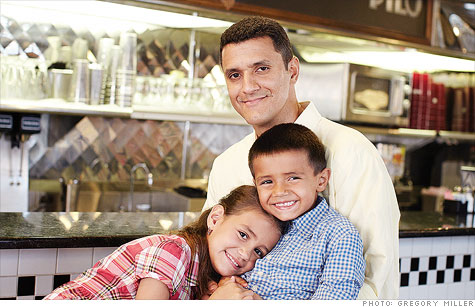 Albert Ramos, 37 Sunrise, Fla.
(MONEY Magazine) -- Divorced three years, Albert Ramos shares custody of his son and daughter, ages 5 and 8, with his ex, but the kids live primarily with him.
Their mother contributes $800 a month in child support, but he bears the bulk of the costs for the kids' day-to-day care.
As primary provider, "I never want to live paycheck to paycheck," says Ramos. So he's become a super-saver, stashing away 18% of his $100,000 income each year.
Help for single parents: Send The Help Desk your financial questions.
"He's saving more than most people in his situation," says Plantation, Fla., financial planner Benjamin Tobias.
On the other hand, he's barely treading water on his home as a result of his tapping equity for an investment that hasn't gone as planned; he's way underinsured; and despite his power-saving, he's shortchanging his kids' college funds.
Earlier this year Verizon (VZ, Fortune 500) bought the IT company where he is an engineering manager, landing $78,000 in bonuses and exercised stock options in Ramos's pocket.
"Right now most of the money is sitting in savings, barely doing anything," he says.
Most Americans can't afford a $1,000 emergency.
Tobias suggests how this single dad can deploy the dough to fill the holes in his financial plan.
The solution
1. Get back above water.
Ramos has $78,000 left on a 6%, 30-year fixed mortgage and $93,000 on a variable-rate home-equity line of credit, now at 3.25%; his home is worth about $170,000.
Tobias advises Ramos to use his bonanza to pay off the first mortgage; then he should refinance the variable HELOC into a fixed-rate loan. That will free cash flow and protect him from losing his home were he to lose his job.
2. Get protected.
The $150,000 Ramos has in life insurance isn't enough, says Tobias: "$500,000 is the minimum for him; $1 million would be nice."
The latter benefit on a 20-year term policy should run Ramos only about $45 a month, according to Accuquote.
He should also buy long-term disability coverage to provide income if an illness keeps him from working.
3. Plan for tuition.
Ramos is currently saving $100 per kid per month for college. He isn't sure how much his ex plans to contribute. But in any case, if he wants to cover half the cost at the average public university, he should be setting aside $330 a month for his daughter, $280 for his son.
Reducing house payments will help make room for those savings and insurance premiums.
Goals
Invest his recent windfall
Make sure his family is secure
Assets
$89,400 in retirement plans
$19,000 in 529 plans for college
$150,100 in taxable accounts
$50,300 cash
Liabilities
$171,000 on a mortgage and a HELOC