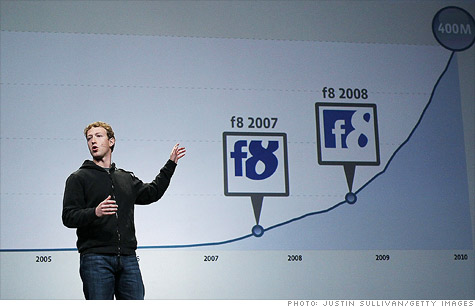 Facebook founder Mark Zuckerberg uses the company's annual F8 gathering to launch new features and map out Facebook's plans.
SAN FRANCISCO (CNNMoney) -- As Facebook edges toward the billion-users mark, an entire ecosystem that has grown up in its wake -- including developers, partners, advertisers and rivals -- is waiting to hear what's next. They'll get answers Thursday at f8, Facebook's annual developer conference.
Anchored by a keynote from Facebook CEO Mark Zuckerberg, the conference traditionally serves as the launching point for new features that map out the strategy of the social network, which now has more than 750 million active users.
This year, music will be a major focus. Sources with knowledge of Facebook's plans say the site is partnering up with services like Spotify, Mog, Rhapsody and Rdio to allow users to share music from different services on the site. Spotify CEO Daniel Ek is slated to speak at an f8 session on "the future of digital music."
"What Facebook is going to do is, you'll be able to subscribe to whatever you like and we'll be able to have a joint music experience," said Eliot Van Buskirk, editor of music-meets-tech blog Evolver.fm.
But sources close to Facebook say the company's vision extends beyond just the music space. The social giant is readying a broader media platform, with a slogan of "Read, Watch, Listen." The company's ubiquitous "Like" button could be getting some company: Facebook is rumored to be set to roll out new buttons to accompany its new media campaign.
But Facebook isn't making members wait until Thursday to start sampling its latest creations. The company has launched a steady stream of tweaks and new features over the past week.
On Tuesday, Facebook unveiled changes to its News Feed. When users log in, they'll see larger photos and a customized list of status updates from their closest friends, which now changes depending on how recently they last checked the site. Facebook is eliminating separate tabs for "top news" and "most recent."
"You really shouldn't miss important updates from your friends," News Feed product manager Keith Schacht said in an interview. A new ticker on the top right of the Facebook page will show friends' activities on the site immediately after they occur. The features should be activated on everyone's account within the next week or so, Schacht said.
But the user reaction to the change was swift and brutal. "This sucks. That is all," wrote one, summing up a blacklash that played out across Facebook pages and on Twitter.
Facebook also recently beefed up its "lists" feature, making it easier to share messages with a small subset of people on your friends list, and launched a "subscribe" button, which lets you customize the content that shows up in your News Feed.
Stay tuned for more. "We're entering launch season," Facebook vice president of engineering Mike Schroepfer said at the TechCrunch Disrupt conference last week. The line echoed a statement Zuckerberg made in July, at a news event he called the kickoff to Faceboook's 2011 "launching season."
"We've been really building up steam ... in making improvements we've been wanting to make for a long time," Schroepfer told the Disrupt audience.
But some of those new features seem a bit -- well, familiar. Subscriptions essentially brings Twitter-like updates to Facebook, while the curation tool Facebook calls "smart lists" isn't too far removed from Circles on Google Plus (which opened to the public this week).
"I think competition is great," Schroepfer said. "It keeps people sharp."

-Follow @LaurieSegallCNN and @MarkMilian for real-time updates from f8.