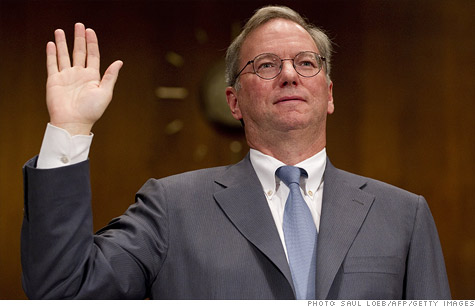 Eric Schmidt, Google's chairman, testified before the Senate antitrust subcommittee Wednesday afternoon.
NEW YORK (CNNMoney) -- Google booked record sales and earnings in the first half of this year, made a series of splashy acquisitions, and is on a hiring spree.
But in the eyes of Google chairman Eric Schmidt, the company is fighting for its survival.
That's the story Schmidt spun Wednesday afternoon in the testimony he delivered to a Senate panel looking into Google's growing dominance.
Schmidt told the Senate antitrust subcommittee that Google (GOOG, Fortune 500) plays by the rules, continually improving its customer experience so that its enormous base of users doesn't leave for the rivals that are always just "one click away"
Google learned from the mistakes of Microsoft, which faced heavy antitrust scrutiny 13 years ago, when Google was still in its infancy. Google supports the open Internet and fosters innovation and competition, Schmidt said -- unlike Microsoft, which he thinks had "lost sight of what mattered."
"In the years since, many of us in Silicon Valley have absorbed the lessons of that era. We get the lessons of our corporate predecessors," Schmidt testified at the hearing. "But I ask you to remember that not all companies are cut from the same cloth, and that one company's past need not be another's future."
Google holds a commanding two-thirds of the U.S. search market, according to traffic tracker comScore (SCOR). When asked by Herb Kohl, a Democrat from Wisconsin and chairman of the antitrust subcommittee, whether Google's share was within the realm of a monopoly, Schmidt agreed -- with caveats.
"I would agree, Senator, that we're within that area," he said. "But as I understand, monopoly is a legal issue. It also means we have special responsibility to debate these issues, and we understand that."
Having a market monopoly isn't illegal. To be in violation of antitrust law, a company needs to abuse its dominant position to stifle rivals.
But Microsoft's (MSFT, Fortune 500) Bing, Schmidt claims, is a rising star in search with rapid market share growth. Non-search sites also serve as competition: EBay (EBAY, Fortune 500) and Amazon (AMZN, Fortune 500) both far outpaced Google in product searches late last year, Facebook is a growing source of website referrals, and other specialized sites for travel and news have mobile applications that allow users to bypass the search engine.
"All of these options for obtaining information can be accessed without ever using Google," Schmidt said.
The Federal Trade Commission in June launched an investigation of Google to determine whether or not the search giant was violating the antitrust act. The FTC hasn't offered details of its probe, but it is reportedly looking into two main potential violations: whether Google favors its own products in its search results, and whether it prevents smartphone manufacturers that use its Android operating system from using rivals' services.
In fielding Android questions, Schmidt again emphasized that Google has learned from Microsoft's misdeeds.
Microsoft took advantage of hidden Windows features that outside rivals couldn't access. Google, by contrast, makes its Android source code public, giving competitors the same visibility Google itself has.
But the search market is a different story: Google's algorithm is known only to Google. Websites don't always know exactly how to rise to the top of search results, and page rankings significantly influence their clicks and revenue. Yet Google's own products also appear in its search results, often quite highly -- and Google, of course, would know how to cook the rankings.
"This conduct has the potential to substantially harm competition for commerce on the Internet, and retard innovation by companies that fear the market power of Google," Kohl said at the hearing.
Google is permitted to promote its own products like Gmail and Google Maps: Google's homepage today has a big blue arrow that points to its Google+ social network. But if Google unduly favors a product like Google Places over a competitor like Yelp in search results, that could be considered anticompetitive.
"Google is in a position to help determine who will succeed and who will fail on the Internet," said Mike Lee, a Republican from Utah and the committee's ranking member.
"I want to assure you that we haven't cooked anything," Schmidt shot back. "I have sympathy for the websites that do go down [in our rankings]. When we make a change there are ancillary or unintended consequences. But we're in a business of ranking, and it's important to know when one goes down another goes up."
Of the FTC probe, Schmidt testified that Google is cooperating with investigators and is "confident that our business practices will stand up to scrutiny."
Schmidt pointed out that in the technology field, even the most entrenched leaders can topple in an eyeblink.
Thirteen years ago, Yahoo (YHOO, Fortune 500) was the No. 1 search engine, and Microsoft was in the same seat that Google finds itself in now.
No one is talking about either's dominance any longer.