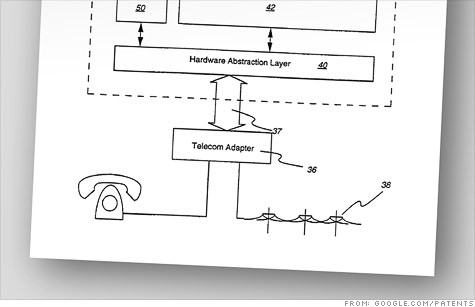 U.S. Patent No. 6,343,263.
NEW YORK (CNNMoney) -- Patent trolls -- companies that license patents but do not actually sell anything -- have long been looked on with fiery scorn in Silicon Valley. This week, a Boston University study offered fresh fuel for those flames.
Lawsuits from non-practicing entities, or NPEs -- better known as patent trolls -- have cost innovators $500 billion in lost wealth from 1990 through 2010, the BU study found. The study arrived at that figure by observing patent defendants' stock prices following a lawsuit, excluding general market trends and random stock movements.
The average patent lawsuit results in $122 million in lost wealth for the defendant, with a median loss of $20.4 million.
But almost all of that money dissipates into the ether. Very little of it transfers from big firms to small ones.
A common talking point among NPEs is that they provide a way for small inventors to make money on their patents: If big, bad IBM (IBM, Fortune 500), for example, were to infringe on one of their patents, small inventors likely wouldn't be able to afford to defend their patent in court. But if that small inventor sells the patent to a patent troll, the NPE can then sue IBM, and deliver a portion of those payments back to the inventor.
The BU study called bull on that that notion: Just 2% of companies' net losses went to small investors. NPEs are getting a better deal, but even they still took home just 9% of those losses.
Patent trolls also like to say that they themselves foster innovation. It's true that many NPEs have their own research and development laboratories that are used to invent technologies that can be patented. But those R&D expenses are also quite small -- they represent 2% of the lost $500 billion.
So if big technology companies, small technology companies and even investors in NPEs aren't gaining much from patent litigation, who is?
"The only real beneficiaries are the lawyers and perhaps the principals of the NPE firms," said James Bessen, professor at BU's law school and author of the study. "There are a lot of big losers from NPE litigation, while hardly anyone benefits much."
As a result, the study concludes that patent trolls create a very large disincentive to innovate. In fact, a previous BU study found that the more a company spends on research and development, the more likely it is to be sued. The vast majority of defendants in patent lawsuits are companies that invest heavily in R&D.
Bessen says that it wasn't always this way. NPEs used to add to the common good, assisting small inventors in growing the profits they earn from their inventions. But over the past couple of decades, a new crop of patent trolls have begun litigating "on an unprecedented scale."
Those lawsuits have ramped up considerably since 2006. NPE lawsuits represent upwards of 17% of all patent lawsuits and 41% of all software patent cases, according to a 2009 study published in the North Carolina Law Review. The BU study found that the associated destruction of wealth among defendants in those suits has averaged $83 billion per year over the past four years.
The traits of this new wave of patent litigation are distinctive, the study found: The lawsuits tend to focus on software, target companies that have already developed technology and involve multiple large companies as defendants.
"These characteristics suggest that this litigation exploits weaknesses in the patent system," Bessen said.
That means patent troll lawsuits have just one "positive" effect for patents: They increase incentives for large tech companies to acquire vast portfolios of patents to bolster their defenses, even if real innovation suffers. Apple (AAPL, Fortune 500) and Microsoft (MSFT, Fortune 500), for instance, were among several firms to buy patents from the bankrupt Nortel for $4.5 billion, while Google (GOOG, Fortune 500) bought Motorola Mobility (MMI) and its portfolio of 17,000 patents for $12.5 billion.
Meanwhile, President Obama just signed a patent reform bill into law last week that garnered broad bi-partisan support. But that bill does nothing to hinder these kind of lawsuits.