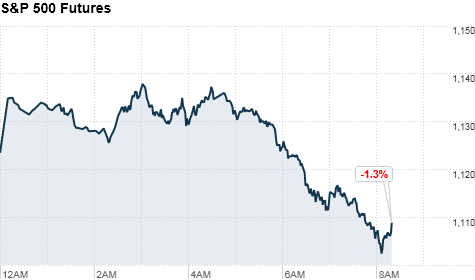 Click the chart for more premarket data.
NEW YORK (CNNMoney) -- U.S. stocks were poised for a lower start Friday, extending Thursday's 3% slide, as fears that the global economy is teetering toward another recession continued to grip the market.
Dow Jones industrial average (INDU), S&P 500 (SPX) and Nasdaq (COMP) futures slid 1.3% as a sell-off in Europe picked up steam. Stock futures indicate the possible direction of the markets when they open at 9:30 a.m. ET.
G-20 finance ministers attempted to inject some confidence with a commitment to "a strong and coordinated international response to address the renewed challenges facing the global economy," highlighting the European debt crisis.
Gathering at the annual International Monetary Fund and World Bank meetings in Washington D.C., the group said that by its next meeting in October, the eurozone will have implemented actions to expand the bailout fund for Europe's debt-laden countries "to maximize its impact in order to address contagion."
But traders have heard enough talk, said Michael Hewson, analyst at CMC Markets in London.
"The market is sick of the same, old empty rhetoric," he said. "What we need to see now are deeds."
And to add fresh salt to the wounds, Deutsche Bank warned, in an interview with Reuters, that European banks could take bigger writedowns than expected on Greek debt.
It also didn't help that Moody's downgraded the credit ratings of eight Greek banks by two notches, sending them further into junk territory.
As investors remain jittery over the fate of Europe, fear continued to drive the world markets lower.
Britain's FTSE 100 (UKX) fell 1.9%, the DAX (DAX) in Germany dropped 2.9%, and France's CAC 40 (CAC40) plunged 3.1%.
Asian markets ended in the red. The Shanghai Composite (SHCOMP) fell 0.4%, the Hang Seng (HSI) in Hong Kong tumbled 1.4% and Japan's Nikkei (N225) sank more than 2%.
Stocks in the United States, Europe and Asia are coming off a dramatic sell-off Thursday.
The sharp losses put the Dow on track for its worst weekly performance since September 2008: the blue chip index is down 6.74% over the past four days.
Companies: Shares of Hewlett-Packard (HPQ, Fortune 500) edged lower a day after the company's board ousted CEO Leo Apotheker after just 11 months.
Investors will also closely watch financial stocks. Shares of Morgan Stanley (MS, Fortune 500) and Citigroup (C, Fortune 500), which have been hit hard over the last few days due to concerns about U.S. exposure to Greek debt, tumbled in early trading.
Bank of America's (BAC, Fortune 500) stock was also lower, dipping below $6 in premarket trading, a level not seen since March 2009.
Shares of KB Home (KBH) slipped after the homebuilder reported a $9.6 million loss for the third quarter, and revenue declined more than forecasts.
Currencies and commodities: The dollar rose slightly against the euro and the Japanese yen, but lost ground versus the British pound.
Commodities continued to slide. Oil for November delivery fell $1.60 to $78.51 a barrel. Gold futures for December delivery lost $50 to $1,691.70 an ounce.
Bonds: The price on the benchmark 10-year U.S. Treasury rose slightly, pushing the yield down to 1.71% from 1.72% late Thursday. Earlier, the benchmark yield fell below 1.70% to hit a fresh record low.
Economy: No major economic reports are scheduled for release Friday.