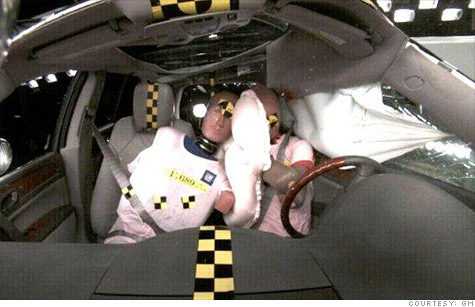 General Motors' new airbag deploys between the two front seats to protect occupants from being thrown around, or into each other, during a crash.
NEW YORK (CNNMoney) -- General Motors will add a new type of airbag, one that pops up between the front seats, to some of its crossover SUVs next year.
The airbag could help prevent 29% of fatalities in side crashes, GM said. It will also prevent a lot of head and spinal injuries, the automaker said. Violent side-to-side motions in side-impact crashes cause many spinal injuries.
In the event of a side impact, the so-called Front Center Airbag will deploy from the side of the driver's seat opposite the door. Its purpose is to prevent the passenger and driver from smacking into each other and to keep the driver from wrenching over too far to the side, when driving solo. It's also expected to help during rollover crashes.
"The front center air bag is not required by federal regulation, and no other air bag in passenger vehicles today offers the type of restraint and cushioning this air bag is designed to provide for front occupants," said Scott Thomas, senior staff engineer in GM's advanced restraint systems.
The new airbag will appear first in the GMC Acadia, Buick Enclave and Chevrolet Traverse large crossover SUVs.
Adrian Lund, president of the insurance Institute for Highway Safety, participated in GM's announcement and agreed that the airbag had genuine potential to save lives in crashes.
GM (GM, Fortune 500) also unveiled a new camera-based collision warning system. The system will alert drivers to the danger of an impending crash by detecting stopped cars or other obstacles ahead. The camera shoots 14 picture per second and compares them to look for vehicles looming larger in its lens. If a car is getting closer too fast, the system warns the driver and readies the brakes for quick response.
Many cars, mostly high-end luxury cars, already have collision warning systems today but they use radar instead of a camera. The camera-based system is much cheaper, GM said, allowing it to be used in a broader range of vehicles.