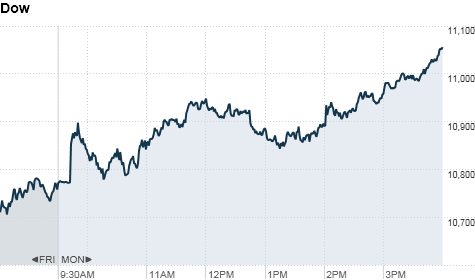 Click the chart for more stock market data.
NEW YORK (CNNMoney) -- U.S. stocks surged to finish near the highest levels of the day Monday, amid high hopes that Europe's debt crisis is headed on the right path...toward resolution.
The Dow Jones industrial average (INDU) rallied 272 points, or 2.5%, and the S&P 500 (SPX) added 27 points, or 2.3%.
Financial stocks were among the best performers. JPMorgan Chase (JPM, Fortune 500) and Bank of America (BAC, Fortune 500) were the the biggest winners on the Dow, while shares of Citigroup (C, Fortune 500), Wells Fargo (WFC, Fortune 500), Goldman Sachs (GS, Fortune 500) and also carved out solid gains.
The tech-heavy Nasdaq (COMP) gained 33 points, or 1.4%. The gains were smaller as technology stocks struggled, with heavyweight Apple (AAPL, Fortune 500) drifting in the red.
Investors are hoping to hear some good news about Greek and European debt woes as eurozone countries continue to vote on expanding the European Financial Stability Fund (EFSF), which is the bailout fund for Europe's cash-strapped countries, including Portugal, Italy, Ireland, Greece and Spain.
A CNBC report suggesting that there's a plan in the works to shore up European banks gave investors a late-day confidence boost. The plan would allow banks weighed down by bad European sovereign debt to exchange it for bonds issued by the European Investment Bank, a bank owned by the member states of the European Union. The newly issued bond would be funded by the EFSF, the report said.
"The plan is getting investors excited, but I question if this is sustainable," said Joseph Saluzzi, co-head of equtiy trading at Themis Trading. "It's just more hocus pocus and waving a magic wand without adressing the real issues."
While the plan would help get bad debt off bank balance sheets, it doesn't address the big-picture fiscal and budget problems in Europe, said Saluzzi.
Earlier, investors were heartened by talk that the European Central Bank may cut interest rates at its next policy meeting on Oct. 8, in an effort to support the region's economy. "Rate cuts cannot be excluded. It all depends on the developments ahead," Market News International quoted ECB governing council member Ewald Nowotny as saying.
But as they wait for European officials to implement substantive measures, investors will stay cautious, keeping their "mouth guards in and chin straps buckled," said Mark Travis, president and chief executive of Intrepid Capital Funds.
Over the weekend, European finance officials met in Washington, D.C., for the annual meeting of the World Bank and International Monetary Fund.
Greek Finance Minister Evangelos Venizelos said late Sunday that his country would do "whatever it takes" to solve its debt crisis. His comments came a day after U.S. Treasury Secretary Tim Geithner warned that the sovereign debt and banking crisis in Europe represents "the most serious risk now confronting the world economy."
U.S. stocks closed out last week with a slight rally on Friday, but the Dow still delivered its worst weekly performance since October 2008. All three indexes fell by more than 5% for the week.
A raft of bad news from around the globe last week kept investors worldwide in a state of heightened fear.
And that kept the scramble for safety in high gear. The yield on the benchmark 10-year note hit another record low Friday, falling as far as 1.671% in the early going before closing at 1.81%.
Bonds were mostly lower early Monday, with the yield on the benchmark 10-year note edging up to 1.90%.
Economy: New home sales fell 2.3% in August to an annual rate of 295,000, the government said. That was slightly better than the 293,000 annual rate that economists had predicted.
Companies: Shares of Warren Buffet's Berkshire Hathaway (BRKA, Fortune 500) led the gains in the S&P 500 after the company announced a buyback of class A and B shares at a premium of no more than 10% of the shares' book value.
Boeing's (BA, Fortune 500) stock popped as the aircraft maker delivers the first 787 Dreamliner to Japans's All Nippon Airways.
Shares of Netflix (NFLX) were also higher following news that the video-streaming company had inked a deal with DreamWorks over the weekend.
UBS (UBS) shares gained as investors reacted to the company's management shift. The chief executive of UBS Group resigned Saturday in the wake of a staggering $2.3 billion loss on unauthorized trades at the Swiss bank.
World markets: European stocks finished higher. Britain's FTSE 100 (UKX) edged up 0.4%, the DAX (DAX) in Germany gained 2.9% and France's CAC 40 (CAC40) added 1.2%.
Asian markets ended lower. The Shanghai Composite (SHCOMP) fell 1.6%, the Hang Seng (HSI) in Hong Kong shed 1.5% and Japan's Nikkei (N225) fell about 2.2%.
Currencies and commodities: The dollar fell against the euro, the British pound and Japanese yen.
Oil for November delivery rose 39 cents to settle at $80.24 a barrel.
Gold futures for December delivery fell $45 to $1,594.80.80 an ounce.