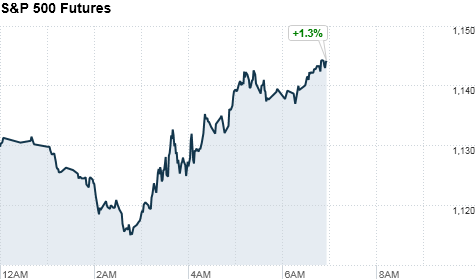 Click on chart for more premarket data.
NEW YORK (CNNMoney) -- U.S. stocks were set to open higher Monday, as finance ministers around the globe try to get a grip on the European debt crisis.
Dow Jones industrial average (INDU), S&P 500 (SPX) and Nasdaq (COMP) futures were more than 1% higher ahead of the opening bell. Stock futures indicate the possible direction of the markets when they open at 9:30 a.m. ET.
Over the weekend European finance officials met in Washington, D.C., for the annual meeting of the World Bank and International Monetary Fund.
Greek Finance Minister Evangelos Venizelos said late Sunday that his country would do 'whatever it takes' to solve its debt crisis. His comments came a day after U.S. Treasury Secretary Tim Geithner warned that the sovereign debt and banking crisis in Europe represents "the most serious risk now confronting the world economy."
Investors are concerned that a Greek default will drag down other European economies struggling with weak growth and unsustainable levels of debt, and could quickly spread financial woes across borders and oceans.
But investors were also heartened by talk that the European Central Bank may cut interest rates at its next policy meeting on Oct. 8. "Rate cuts cannot be excluded. It all depends on the developments ahead," Market News International quoted ECB governing council member Ewald Nowotny as saying.
The ECB has raised rates twice this year in an effort to combat inflation so if the central bank reverses course, that could signal a slightly healthier economy and that's giving investors some early optimism.
U.S. stocks closed out last week with a slight rally on Friday, but the Dow still logged its worst week since October 2008. All three indexes fell by more than 5% for the week.
A raft of bad news from around the globe last week, including reports of manufacturing slowdowns in China and Europe and a dour economic outlook from the U.S. Federal Reserve, kept investors worldwide in a state of heightened fear.
And that kept the scramble for safety in high gear. The yield on the benchmark 10-year note hit another record low Friday, falling as far as 1.671% in the early going before closing at 1.81%. The day's bounce could be a sign that fatigue is finally catching up with the bond market.
Bonds were mostly lower early Monday, with the yield on the benchmark 10-year note edging up to 1.84%.
Economy: The new home sales index for August is due at 10 a.m. ET. Sales are expected to have decreased to a seasonally adjusted annual rate of 293,000 units, from 298,000 the previous month.
Companies: Financial stocks fared well in premarket on hopes that Europe's crisis is on the road to resolution. Shares of Bank of America (BAC, Fortune 500), Citigroup (C, Fortune 500), Wells Fargo (WFC, Fortune 500), JPMorgan Chase (JPM, Fortune 500) and Goldman Sachs (GS, Fortune 500) were all higher.
Shares of Netflix (NFLX) were also higher ahead of the opening bell following reports that the movie streaming company had inked a deal with DreamWorks over the weekend.
UBS (UBS) shares rose in premarket trading as investors reacted to the company's management shift. The chief executive of UBS Group resigned Saturday in the wake of a staggering $2.3 billion loss on unauthorized trades at the Swiss bank.
World markets: European stocks rose in morning trading. Britain's FTSE 100 (UKX) edged higher up 0.1%, the DAX (DAX) in Germany gained 2.3% and France's CAC 40 (CAC40) added 2.1%.
Asian markets ended lower. The Shanghai Composite (SHCOMP) fell 1.6%, the Hang Seng (HSI) in Hong Kong shed 1.5% and Japan's Nikkei (N225) fell about 2.2%.
Currencies and commodities: The dollar gained strength against the euro, but fell versus the British pound and Japanese yen.
Oil for November delivery rose 24 cents to $80.09 a barrel.
Gold futures for December delivery fell $20.40 to $1,619.40 an ounce.