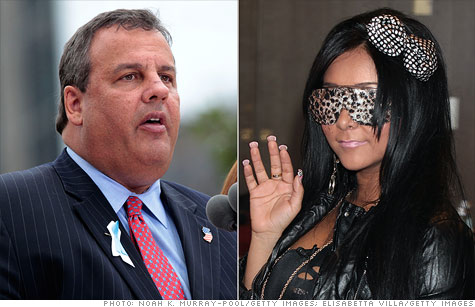 New Jersey Gov. Chris Christie cut tax credits for MTV's hit show Jersey Shore.
NEW YORK (CNNMoney) -- Hey Snooki, you're not welcome on the Jersey Shore.
New Jersey Gov. Chris Christie cut $420,000 in tax credits Monday that would have gone to 495 Productions, the company responsible for bringing the escapades of "Pauly D" and "The Situation" to the masses via MTV.
Christie has two concerns: He doesn't care for the tax credit program, and he really doesn't like how Jersey Shore depicts the state.
And that means no more "Snooki subsidy."
"I am duty-bound to ensure that taxpayers are not footing a $420,000 bill for a project which does nothing more than perpetuate misconceptions about the state and its citizens," Christie said in a statement.
That's not all. The governor also has what his office called "long held, serious concerns" about the value of the entire New Jersey Film Tax Credit Transfer Program, a $10 million effort designed to bring more film and television production to the state.
In a letter sent to the New Jersey Economic Development Authority, Christie said that he has "no interest in policing the content of such projects," and that the state must ensure "our limited taxpayer dollars are spent on programs and projects that best benefit the state."
Christie's office said the tax credits would have covered production in 2009, when the show was based in New Jersey. The show -- one of MTV's biggest hits -- decamped to Italy for its most recent season.