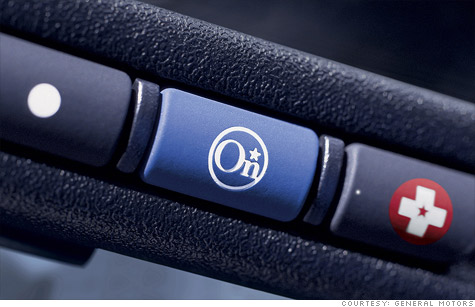 General Motors' OnStar division recently announced changes to the way it collects and sells user data. Data may now be collected even after users cancel their subscriptions.
CNNMoney (New York) -- Your OnStar-equipped car can share an awful lot about your driving habits -- even if you're no longer an OnStar customer.
A senator from New York has asked the Federal Trade Commission to open an investigation into vehicle tracking by General Motors' OnStar division. Two other senators issued calls for the company to explain and reconsider its tracking policies.
OnStar, which provides a variety of services including vehicle diagnostics, driving directions and automated 911 calls to owners of mostly GM vehicles, recently announced that it reserves the right to track and sell information about vehicles' location and speed even after the driver has stopped subscribing to the service. OnStar, which has around 6 million subscribers, relies on GPS tracking and other systems built into to the car.
Senator Charles Schumer, a Democrat from New York, has asked the Federal Trade Commission to open an investigation into the matter.
"[OnStar] has recently made dramatic changes to its privacy policy that I find alarming," Schumer said in a letter to the chairman of the FTC. "I am concerned that OnStar may be abusing the consumer data -- including sensitive information like vehicle location and speed -- to which it has access."
Schumer called the tracking "one of the most brazen invasions of privacy in recent memory." Senators Al Franken and Christopher Coons, both Democrats, sent a letter to OnStar last week saying that the company's actions "appear to violate basic principles of privacy and fairness."
OnStar customers can request that the data connection between OnStar and the vehicle be completely cut off, an OnStar executive said prior to Schumer's announcement. But they have to actively communicate that choice to OnStar.
"Under our new terms and conditions, when a customer cancels service, we have informed customers that OnStar will maintain a two-way connection to their vehicle unless they ask us not to do so," said Joanne Finnorn, OnStar's vice president for subscriber services.
Even without an active subscription, the connection can provide GM (GM, Fortune 500) with the ability to alert vehicle occupants about severe weather emergencies, mandatory evacuations or recall issues, she said. It also allows GM to capture data that can be used for "future product development."
"Of course, if the customer requests us to turn off the two-way connection, we will do as we have always done," she said.
An OnStar representative said the company is working directly with Senator Schumer's office and declined to provide any further comment.
GM offers OnStar free for an initial trial period on most GM vehicles. After that, vehicle owners must pay a monthly subscription fee to continue using it.
OnStar's terms grant it the right to collect a variety of information about the driver's use of the car, including the car's location and speed and whether or not a mobile device like a Bluetooth-enabled phone is connected to the car's systems.
OnStar reserves the right to sell "anonymized" information collected from vehicles to outside companies. "Anonymized" data is aggregated on cannot be traced back to any individual vehicle or person.
But hackers have been able to tease out individual user information from supposedly anonymized data, Schumer noted in his announcement.
General Motors has recently begun selling a boxed version of the technology called OnStar FMV that can be installed on non-GM vehicles.