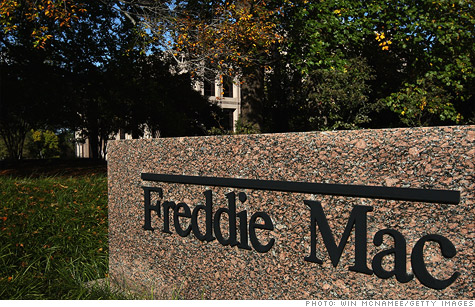 Freddie Mac's loan review process is criticized in watchdog report.
WASHINGTON (CNNMoney) -- The federal government's mortgage finance regulatory agency did a poor job of making sure taxpayers got top dollar in selling $2.87 billion in bad mortgages back to Bank of America last year, an inspector general's report said Tuesday.
The report focused on the role of the Federal Housing Finance Agency, which is the regulator as well as the conservator tasked with overseeing the troubled government-owned housing mortgage backers Fannie Mae and Freddie Mac.
In late 2010, after the worst of the financial crisis, the agency's director decided to sell back to Bank of America a large number of bad mortgages and mortgage- backed securities. Selling back bad mortgages -- in cases when the homeowner didn't actually have the income stated on the loan or if the house's value was inflated compared to the paperwork -- is the only line of defense against bad loans for Fannie Mae and Freddie Mac, the report said.
In the buyback deal, Bank of America (BAC, Fortune 500) paid $1.35 billion to Freddie Mac and $1.52 billion to Fannie Mae for a pool of mortgages. In the case of Freddie Mac, Bank of America was repurchasing some 787,000 loans from mortgage originator Countrywide Financial, which was bought by Bank of America in 2008.
The watchdog agency said that the agency should have had a better system for checking Freddie Mac's math in calculating the value of the loans. The report said one senior examiner warned the agency before the settlement deal that the process for checking what mortgages were worth could "potentially cost Freddie Mac billions of dollars of losses."
In its response, the Federal Housing Finance Agency said it still thought its settlement with Bank of America was "appropriate and reasonable." It noted its own internal checks and balances system also found problems with its loan review process, which spurred them to stop negotiating the settlement of any more bad mortgages.
The watchdog agency it looked into the deal because the Freddie Mac settlement could "serve as a precedent for future repurchase settlements" involving big banks that sold giant numbers of loans to the government-owned mortgage backers.