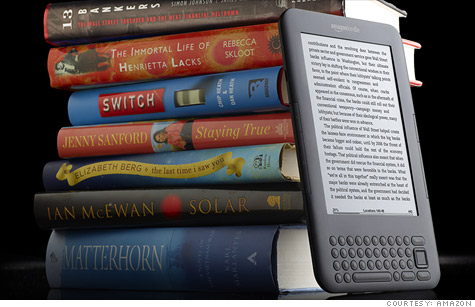 Amazon has its hands in all parts of the book publishing chain. Smaller publishers say it's a near-monopoly, but authors argue that Amazon simply offers a better deal.
NEW YORK (CNNMoney) -- Amazon's low-priced bestsellers and Kindle e-reader are famous for changing the book industry. What's not so well known is how deeply Amazon's tentacles reach into all parts of the industry, including its growing interest in inking deals with authors to publish some of the hit books Amazon sells.
Booksellers and publishers are crying foul, saying they're being cut out of the chain by an aggressive Goliath. But some authors who have recently signed with Amazon Publishing say the company simply offered them a better, fairer deal than traditional publishers.
And those Amazon deals are a boon for consumers, the authors say, because they bring earlier book releases and cheaper prices.
Amazon quietly launched its own book imprint in 2009. The effort expanded the next year into a line of foreign translations and another of "manifestos" from thought leaders, but it stayed fairly under-the-radar until this May, when Amazon brought in famed New York editor Larry Kirshbaum to head up its Amazon Publishing unit.
Kirshbaum quickly dumped gasoline on Amazon's publishing sparks: Last month, he signed uber-popular self-help author Timothy Ferriss, whose book The 4-Hour Workweek (published by Crown, a division of Random House) remains a perennial bestseller. Amazon plans to publish Ferriss's next book, The 4-Hour Chef, in April 2012, in all formats: digital, audio, and old-fashioned ink on paper.
Ferriss is the highest-profile author yet to jump ship from the traditional publishing houses, and his defection has rivals spooked.
"Amazon is holding the entire book industry hostage," says Oren Teicher, CEO of the American Booksellers Association. "First they disintermediated retailers, and now it's publishers and authors."
Amazon (AMZN, Fortune 500) declined to comment for this story.
Amazon's expanding reach: Amazon's lock on the entire book chain is "alarming," Teicher says, because the company is controlling so many parts of the industry. He cites Amazon's sales tax battle with California lawmakers as an example of its "enormous weight."
Teicher doesn't think that Amazon truly has a monopoly, but he warns "it's moving in that direction."
Dominique Raccah, CEO of independent Chicago-area publisher Sourcebooks, agrees that Amazon "could be" a monopoly already. Amazon's move into publishing "was completely expected," she says.
But she wonders if it really knows what it's getting into: "This is a business of lots of long-term investment, very little return and enormously detailed work."
Those details can get overlooked when big companies aren't careful. A preview chapter of Amazon Publishing's first romance e-book was made available to customers with the editor's notes still included, Raccah says. In a "normal" publishing process, about a dozen eyes would have seen the book before any copy went live.
Good deals for authors and readers: Authors who have signed with Amazon say they're sympathetic to the plight of booksellers and publishers, but the traditional route just isn't cutting it anymore.
Thriller writer Barry Eisler made headlines in March when he turned down a two-book deal with St. Martin's Press worth $500,000 in favor of self-publishing. But by May, Eisler had inked a deal with Amazon instead.
"A half a million dollars is attractive, but it always comes with caveats," Eisler says. "[Traditional] publishers are going to set the prices and the release date. They want to control the cover art and even the title."
Amazon, however, gave Eisler creative freedom similar to that of self-publishing, plus the benefit of a strong distribution and marketing channel.
A particular sticking point for Eisler was the e-book's release date. He asked about publishing his upcoming book The Detachment digitally six months before the paper release, but he says "that was a non-starter."
Amazon released the e-book version of The Detachment earlier this month. The print version won't go on sale until mid-October.
"Legacy publishing is about maintaining the position of paper and slowing down digital," Eisler says. "They don't want readers switching to digital because they can get the books earlier or cheaper. And then readers lose out."
He says his deals with traditional publishers typically gave him 17.5% of the retail price of the book, while self-publishing would have netted him around 70%. He won't reveal the cut that Amazon offers, but "it's much more favorable" than the traditional guys.
"Before, the choice of publisher was almost an illusion," Eisler says. "It was like choosing one player in a cartel. But now those legacy houses aren't the only game in town."
Joe Konrath, who writes under the pseudonym Jack Kilborn, also found more financial success when he went rogue. Eight of his books were published by Hyperion, Hachette and Berkley, a track record that gave him an income of about $300,000 over the course of nine years.
Then, in 2009, Konrath self-published a few novels on the Kindle. That's netted him more than $300,000 in 2011 alone.
Like Eisler, though, Konrath turned from self-publishing to sign with Amazon in May.
"Amazon treats its authors like partners, not like necessary evils," Konrath says, "With my previous publishers, I had zero say in important decisions. Amazon respects my [creative] decisions, [and] its marketing power is unmatched."
Amazon's stealth moves: Teicher, the ABA head, says the issue isn't about progress -- it's that Amazon is "using the book industry as a loss leader to get people to buy TVs."
"Book buyers are good consumers, and Amazon knows that," Teicher says. "So they get drawn in and then encouraged to buy different products. Meanwhile Amazon's hurting the book industry for the sake of profits."
Michael Norris, senior trade books analyst at Simba Information, agrees that Amazon has become "sort of the Wal-Mart of the Web." It's a one-stop shop for almost everything -- and its ambitions go far beyond books.
On Wednesday, Amazon is poised to build on the success of its Kindle e-reader and launch a tablet device that analysts expect to challenge Apple's (AAPL, Fortune 500) wildly popular iPad by significantly undercutting the iPad on price.
As more customers adopt Kindles, iPads and other devices that make e-books more attractive, the print-to-digital shift will start snowballing. By expanding its own publishing arm, Amazon accelerates the rate at which traditional publishers could find themselves entirely cut out of the supply chain.
The "Amazon effect" has already decimated one business: bricks-and-mortar bookstores. Barnes & Noble (BKS, Fortune 500) reported two straight quarterly losses this year, while Borders filed for bankruptcy in February and recently closed all of its stores.
If they want to avoid the same fate, publishers have just two options: Innovate or die.
As one example of a possible path forward, Sourcebooks publisher Raccah cites O'Reilly Media. In addition to its traditional book publishing, tech specialist O'Reilly hosts conferences, publishes a magazine and offers online training courses.
"Publishers have to add value wherever they can if they want to survive," Raccah says. "It's no longer enough to be just one thing."