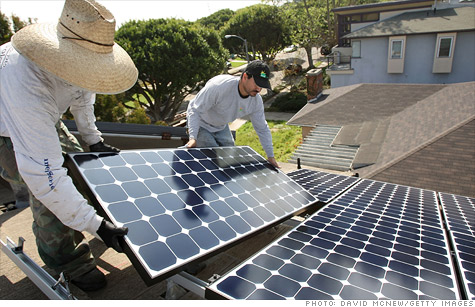 Google has boosted its investment in solar by putting $75 million into a fund that solar installers can draw on to finance solar panels on homes.
NEW YORK (CNNMoney) -- Google announced another investment in companies selling rooftop solar panels Tuesday, putting $75 million into a fund that solar contractors and designers can draw on to finance solar systems for homeowners.
Contractors get cheap financing from the fund and pay a commission from each sale.
Administered by Clean Power Finance, the fund allows installers and designers of solar power systems to offer their customers rooftop solar panels for little or no money down.
Then, instead of paying an electric bill to the power company, homeowners send a monthly payment to Clean Power Finance who passes the check along to Google.
Ultimately, Google owns the panels and is also able to take the various state, local and federal tax credits associated with them.
"This allows companies [like Google] to invest in a space that makes a lot of sense," said said Rick Needham, Google's head of green business. "It creates jobs, it puts clean energy onto rooftops, and it allows homeowners to pay lower bills."
The funding will put solar panels on 2,000 to 3,000 homes.
Clean Power Finance is a startup firm that runs a software platform connecting small solar installers with financing. It currently works with over 1,400 solar installers, and has received financial backing from by Kleiner Perkins Caufield & Byers, Google Ventures and Claremont Creek Ventures.
Google (GOOG, Fortune 500) is the second company to create a fund with Clean Power, but who the other investor involved is, and how much was invested in the first round of funding was not made public.
Google wouldn't comment on the returns it expects to get on its money, but Clean Power CEO Nat Kreamer said investors can typically expect a payback in the high single or low double digit percentage points.
Kreamer noted that this is a safe investment for companies looking to put their money to work. The company only sells the panels to people with good credit, and the vast majority of Americans pay their electric bills, he said.
"It's investment-grade risk, and better than investment-grade returns," he said. "As a consequence, we're seeing a lot of interest."
Both Kreamer and Needham are hoping the Google investment will spur other companies, banks or investment funds to put money into solar power financing.
Finding a way to put solar panels on homes and let the homeowner avoid the high up front cost of the system has been a major hurdle to the development of solar power, a hurdle that the advent of solar panel leasing and corporate financing is helping overcome.
The program is already up and running in California and Colorado. The Google funding will help it expand to Arizona and the Northeast.
In June Google invested $280 million in rooftop solar provider SolarCity, which operates on a similar leasing model.
Solar power currently relies on subsides from local, state and the federal government to be competitive, subsidies that together cover anywhere from 30% to over 50% of the project cost.
The government is subsidizing the technology in the hopes that more wide scale deployment will eventually lower the costs to where solar can compete with other forms of energy. The price of solar panels has dropped 40% in the last year alone.
Last year renewable energy subsidies cost the federal government about $12 billion, with most of that money going to the wind and ethanol industry.