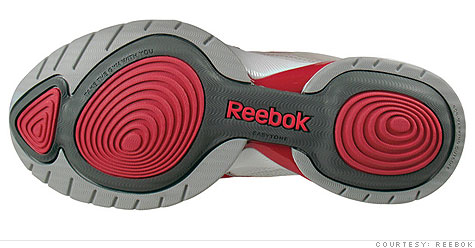 Reebok settled with the FTC for $25 million over claims that it deceptively advertised its shoes' ability to shape your buttocks.
NEW YORK (CNNMoney) -- Reebok got a kick in the keester on Wednesday. The Federal Trade Commission announced that the company had to pay $25 million for "deceptively" advertising its shoes for having buttock-toning abilities.
The FTC said Reebok International agreed to pay that amount as part of a settlement agreement "to resolve charges that the company deceptively advertised 'toning shoes,' which it claimed would provide extra tone and strength to leg and buttock muscles."
The agency also said consumers who bought the EasyTone walking shoes and RunTone running shoes can submit refund claims via the FTC's website. The settlement money will be used to pay the refunds.
"The FTC wants national advertisers to understand that they must exercise some responsibility and ensure that their claims for fitness gear are supported by sound science," said David Vladeck, director of the FTC's Bureau of Consumer Protection.
Reebok addressed the settlement in a press release:
"The allegations suggested that the testing we conducted did not substantiate certain claims used in the advertising of our EasyTone line of products," said Reebok. "In order to avoid a protracted legal battle, Reebok has chosen to settle with the FTC."
Reebok emphasized, however, that its butt-shaping shoes do work, despite the government's accusations.
"Settling does not mean we agreed with the FTC's allegation; we do not," Reebok said. "We fully stand behind our EasyTone technology -- the first shoe in the toning category inspired by balance-ball training."
Reebok isn't the only shoemaker that claims toning benefits. Skechers (SKX) has also marketed its Shape Ups shoes as having body-shaping ability beyond the foot.
"The value proposition is that Shape Ups help you burn more calories and exercises your muscles," said Leonard Armato, president of Skechers Fitness Group, in an interview with CNNMoney ahead of the 2011 Super Bowl, which featured Kim Kardashian in a Shape Ups spot.
FTC spokeswoman Betsy Lordan declined to comment on whether the agency is investigating Skechers. A Skechers spokeswoman also declined to comment for this story.