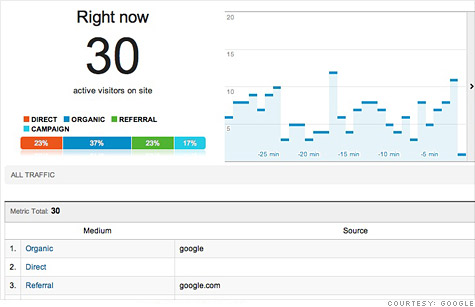 Google Analytics Real-Time offers an instant look at website traffic patterns.
NEW YORK (CNNMoney) -- Google Analytics, a widely used tracking tool for website operators, got a major upgrade Thursday with the company's first real-time traffic tracker.
Google's free analytics tool offers a fairly comprehensive dive into the traffic patterns of sites on which it's installed -- but until now, it had a lag of at least an hour or so before most data would show, and a 24-hour lag on full data reporting.
The new Google Analytics Real-Time tool offers an instant look at a site's active-visit count. It began rolling out Thursday to some users and will be available to all users in the next few weeks, Google said in a blog post.
The tool's splashy visuals and instant updates echo another analytics service that has been gaining fans: Chartbeat, a New York-based startup that launched in early 2009. Aimed at websites with major traffic -- including news publishers, big blogs and retailers -- the company has attracted customers including Groupon, Starbucks (SBUX, Fortune 500), Billboard and The Onion (and CNNMoney).
Chartbeat is a paid product, with pricing that starts at $10 a month for smaller sites. Google Analytics is a free offering. Google has typically targeted smaller sites, but some larger organizations including Costco (COST, Fortune 500), Yelp and AOL's (AOL) Huffington Post have adopted its tools.
Google (GOOG, Fortune 500) seems to be scaling up its analytics ambitions: This week it also rolled out the first part of a complete user-interface overhaul and introduced Google Analytics Premium, its first paid offering for larger websites. While Google's free offering tops out its data collection at 10 million website visitors per month, its new paid plan offers more data collection, additional modeling tools and service support. Google did not reveal a price tag for its paid product.
Google Analytics launched in late 2005 on the heels of Google's acquisition of analytics software maker Urchin. Google doesn't release its user statistics, but analysts estimate that the immensely popular free tool has millions of users.
Chartbeat remains a gnat in comparison: On Thursday afternoon, its "total total" monitor -- a tracker of traffic to all the sites Chartbeat is installed on -- logged around 4 million concurrent users.