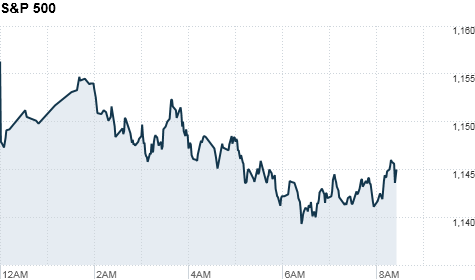 Click the chart for more premarket data
NEW YORK (CNNMoney) -- Stocks were headed for a lousy end to a lousy quarter Friday, after the latest reading on European inflation sparked a sell-off in overseas stocks that was spilling over into U.S. markets.
Dow Jones industrial average (INDU), S&P 500 (SPX) and Nasdaq (COMP) futures were down between 0.7% and 1% ahead of the opening bell. Stock futures indicate the possible direction of the markets when they open at 9:30 a.m. ET.
Global markets retreated Friday, plagued by insecurity over Europe and fears that the eurozone stability fund might not be enough to pull the continent out of its ongoing debt crisis.
Consumer prices in the 17 eurozone nations rose 3% in September -- faster than the 2.5% rate in August. That could lay the foundation for the European Central Bank to raise rates when it meets next week. There has been more talk about a rate cut than a hike recently so the ECB meeting will be closely watched.
It's been a volatile quarter, with fear about Europe's debt crisis and an economic slowdown weighing on investors. As of Thursday's close, the Dow and Nasdaq are down 10% for the quarter, while the S&P 500 is down 12%.
Year-to-date, the Dow is down 3.6%, Nasdaq is down 6.5% and S&P 500 is off 7.7%.
Stocks went on a roller-coaster ride Thursday, as investors parsed through positive news in the U.S. and Europe.
Investors were optimistic, following better-than-expected readings on U.S. economic growth and some signs of stabilization in Europe. Germany's parliament approved expanded powers for the eurozone's bailout fund. But that quickly gave way to underlying pessimism about the economy and Europe.
"We're playing follow the leader," Peter Cardillo, Chief market economist at Rockwell global capital said. "I think the market will be subject to the end of the quarter and its downward trend." According to Cardillo, better-than-expected economic data could "cushion the market" as the quarter comes to a close.
Economy: Personal spending increased 0.2% in August, while incomes eased 0.1%, according to U.S. government statistics.
The figures matched economists' expectations.
The Chicago PMI, a regional reading on manufacturing activity, will be released after the opening bell. The measure is expected to have moved to 54.0 in September from 56.5 in August.
The University of Michigan's final reading on consumer sentiment in September is due shortly after the market opens. It's expected to come in at 57.5 down slightly from the last reading 57.8.
Companies: Bank of America (BAC, Fortune 500) will begin charging a $5 monthly fee at the beginning of next year for customers who make debit card purchases. Shares fell almost 1% in premarket trading.
World markets: European stocks were sharply lower in morning trading after the Eurostat, the European Union's statistics agency, released a report that showed inflation rose 3% from 2.5% in August-- its highest level in three years.
Britain's FTSE 100 (UKX) slipped 1.6%, the DAX (DAX) in Germany dropped 2.6% and France's CAC 40 (CAC40) shed 2.2%.
Asian markets ended lower. The Shanghai Composite (SHCOMP) fell 0.3%, the Hang Seng (HSI) in Hong Kong tumbled 2.3% and Japan's Nikkei (N225) ended little changed.
Currencies and commodities: The dollar gained strength against the euro and the Japanese yen and the British pound.
Oil for November delivery fell 79 cents to $81.45 a barrel.
Gold futures for December delivery rose $5.70 to $1,623 an ounce.
Bonds: The price on the benchmark 10-year U.S. Treasury rose, pushing the yield down to 1.95% from 2.0% late Thursday.