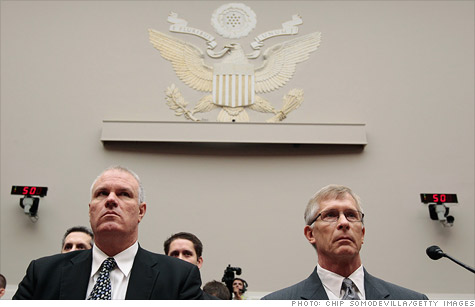 Executives from the bankrupt solar panel maker Solyndra refused to answer questions surrounding the $535 million loan guarantee they received from the government.
NEW YORK (CNNMoney) -- The U.S. Justice Department has asked a judge to install a trustee in the Solyndra bankruptcy case, saying the top executives' refusal to testify in federal probes of the company made the additional oversight necessary.
Solyndra is a California solar panel manufacturer that had received $535 million in federal loan guarantees before it was forced to halt operations and file for bankruptcy at the end of August, putting more than 1,000 workers out of work.
Before its failure, the company had been touted as an example of the benefits of creating green jobs by the Obama administration. But since then it has become the center of congressional criticism and a probe by the FBI.
When Solyndra executives Brian Harrison and W.G. Stover were called before the House Subcommittee on Oversight and Investigations a week ago, they repeatedly invoked their 5th amendment right not to answer questions.
On Friday, the U.S. Trustee (a part of the Justice Department) filed with the bankruptcy court in Delaware to ask that a trustee be appointed in the case, citing the executives' refusal to answer questions.
"Although the United States Trustee recognizes the fundamental importance of the constitutional privilege against self-incrimination, (Solyndra's) officers' assertion of that privilege ... will prevent ... current management from fulfilling the disclosure and reporting obligations incumbent upon all (management) .... and from serving with the transparency so vital to the proper functioning of the bankruptcy system," said the motion.
The trustee said in the filing that even prior to the hearing, Solyndra management had refused to answer questions "about its contracts based on concerns about investigations and possible litigation."