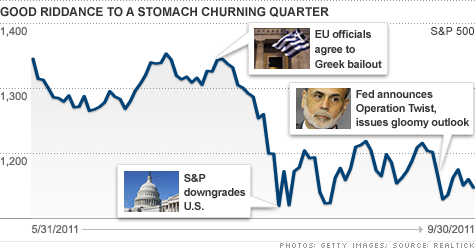 Stocks had their worst performance since the financial crisis.
NEW YORK (CNNMoney) -- On the first trading day of the fourth quarter, investors will be simultaneously attempting to gauge the fate of Europe's weighty debt problems and the health of the global economy.
Investors will watch to see whether all 17 members of the European Union will ratify the bailout fund that's seen as Greece's lifeline to at least temporarily avoid defaulting on its debt.
The third quarter ended on a sour note leaving investors skittish ahead of Monday's opening bell. Stocks fell Friday, capping the biggest quarterly drop for the S&P 500 and the Nasdaq since the fourth quarter of 2008.
The Dow lost 12% in the quarter, marking its worst quarterly performance since the first quarter of 2009.
"I think you need to watch all this uncertainty to see if it is going to create more uncertainty and lead to less investment and less consumption," said James Keenan, head of leverage finance at BlackRock. "If it does you'll start to see equities sell off more aggressively."
On Thursday, the European Central Bank will also meet to decide what do with interest rates. After the Federal Reserve initiated Operation Twist, a more muted version of quantitative easing and less than investors wanted, stocks and commodities sold off sharply.
Following the latest inflation data in Europe, it is now considered unlikely that the ECB will cut rates. Investors worry that should the European Central Bank keep rates at a standstill, that might be treated as another excuse to leave the stock market.
Yet even cutting rates might not be enough. "If they cut rates, it's a marginal positive, but what people really want to see is more commitment to increasing the European balance sheet and protecting Italian and Spanish debt," said Keenan. "That would be viewed as a positive."
Meanwhile, the government's monthly report on jobless numbers will give investors a better sense of just how bad things are in the U.S. Last month, the U.S. economy added no new jobs.
While jobs added or lost will garner the splashiest domestic headlines, investors will also be eyeing other economic reports like the Institute for Supply Management's manufacturing numbers due out Monday.
"It's a broad measure of the economy," said Joseph Tanious, chief market strategist at J.P. Morgan Asset Management. "We want to see whether things are finally picking up or deteriorating."
On the docket
Monday: Wall Street will get the latest ISM manufacturing index, as well as construction spending figures from the Commerce Department.
Economists expect the ISM index will fall to a reading of 50.5 from last month's 50.6. Any reading above 50 indicates that the sector is expanding. Construction spending figures are expected to decrease 0.5%, following a 1.3% decrease last month.
Major auto manufacturers will also report auto sales for September.
Tuesday: Fed chairman Ben Bernanke will be discussing the outlook for the economy in front of the Joint Economic Committee of Congress in the morning.
In the afternoon, Apple (AAPL, Fortune 500) is holding an event where it is widely expected to unveil the iPhone 5.
YUM! Brands (YUM, Fortune 500), the owner of KFC, Pizza Hut and Taco Bell, will report earnings after the closing bell.
Wednesday: Investors will get the ADP private employment report at 8:15 a.m. ET. Economists expect the private sector hired 48,000 workers in September, down from the 91,000 in the prior month.
Outplacement firm Challenger, Gray & Christmas will also issue its report on planned job cuts for September.
Costco (COST, Fortune 500) and Montsanto (MON, Fortune 500) will report quarterly earnings ahead of the opening bell. After the close, hotel operator Marriott (MAR, Fortune 500) will report its quarterly earnings.
Thursday: The Labor Department's closely-watched weekly initial jobless claims data comes out at 8:30 a.m. ET, with economists expecting claims to increase to a reading of 401,000 from last week's 391,000 claims.
Friday: The week culminates with the Labor Department's September jobs report, which will be released at 8:30 a.m. ET. Economists expect unemployment to stay steady at 9.1%. Payrolls are forecast to grow by 63,000 jobs in September. The economy added no new jobs in August.