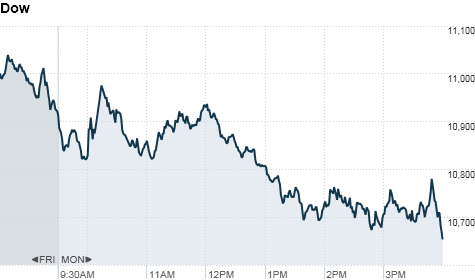 Click the chart for more stock market data.
NEW YORK (CNNMoney) -- Stocks just closed out the worst quarter since the 2008 financial crisis, and the swoon is hardly over. With worries about Greece's solvency still in the spotlight, stocks kicked off the fourth quarter with a huge sell-off.
As investors shrugged off a positive U.S. manufacturing report and focused on the worsening debt crisis in Europe, stocks finished at their lowest levels since September 2010.
The Dow Jones industrial average (INDU) tumbled 258 points, or 2.4%. Alcoa (AA, Fortune 500) and Bank of America (BAC, Fortune 500) dragged on the blue chip index, while Wal-Mart (WMT, Fortune 500) was the only Dow component to post a gain.
The S&P 500 (SPX) lost 32 points, or 2.9%, and the Nasdaq Composite (COMP) fell 80 points, or 3.2%.
The selling was broad and deep, with all major sectors firmly in the red.
Shares of American Airlines' parent AMR Corp. (AMR, Fortune 500) sank amid speculation that the airline company could be headed for steeper-than-expected loss this year. The selling spilled over to other airlines, including U.S. Airways (LCC, Fortune 500), United Continental (UAL, Fortune 500), Delta (DAL, Fortune 500), Jetblue (JBLU) and Southwest (LUV, Fortune 500).
Financial stocks including Citigroup (C, Fortune 500), Bank of America, UBS (UBS) and Morgan Stanely (MS, Fortune 500), were also down sharply.
Stocks managed to briefly log some gains earlier Monday following a solid manufacturing report. The Institute for Supply Management index showed that U.S. manufacturing activity expanded in September, surprising economists who were anticipating some weakness.
But the positive impact didn't last long.
Europe's debt problems are the "overriding driver," said Derek Hoyt, portfolio manager at KDV Wealth Management.
Investors' primary focus remains on Greece's attempts to deal with its deficit problems. Greece has slashed spending, reduced wages and raised taxes in an attempt to bring its debt under control.
The debt-ridden nation will miss key deficit targets for this year and next, according to the draft budget announced by the Greek cabinet late Sunday.
"The economic and political backdrop is one of continued uncertainty as we start the fourth quarter," said Michael Sheldon, chief market strategist at RDM Financial Group. "There doesn't seem to be a near-term solution that will boost confidence among investors."
There isn't a whole lot of optimism that Greece will pull though. Almost all of the 22 economists surveyed by CNNMoney believe Greece will default on its debt by the end of next year.
As investors mull over the gloomy future, the market's fear gauge, the VIX (VIX), spiked almost 5% Monday to 44.97. Any reading above 30 signals investor worry.
A two-day meeting was underway in Luxembourg among the Eurogroup and Economic and Finance Ministers Council. Greece and the expansion of the stability fund are expected to be among the main topics of discussion.
Stocks are coming off an ugly day and an ugly quarter. Stocks were hammered Friday, with all three major stock indexes shaving more than 2%.
The losses capped the biggest quarterly drop for the S&P 500 and the Nasdaq since the fourth quarter of 2008.
Investors have been all consumed by the debt crisis in Europe and the outlook for global economic growth. The Federal Reserve and the International Monetary Fund have both warned of increasing risks to the global economic recovery.
World markets: European stocks closed sharply lower. Britain's FTSE 100 (UKX) fell 1%, the DAX (DAX) in Germany tumbled 2.2% and France's CAC 40 (CAC40) dropped 1.9%.
Asian markets also ended lower. The Hang Seng (HSI) in Hong Kong plunged 4.4%, while Japan's Nikkei (N225) shed 1.8%. Shanghai (SHCOMP) is closed this week for holiday.
Economy: A report from the Commerce Department showed that construction spending jumped 1.4% in August, after falling 1.3% the prior month. Economists were expecting construction spending to slip 0.5% during the month.
Major auto manufacturers reported auto sales for September throughout the day.
GM (GM, Fortune 500) said sales rose 19.8% during the month, above analyst expectations. Sales at Ford (F, Fortune 500) edged up 9%, and Chrysler Group said sales jumped 27%.
Companies: Yahoo (YHOO, Fortune 500) was a big winner on both the S&P 500 and Nasdaq, after the struggling online media firm announced a content alliance with ABC News, owned by Disney (DIS, Fortune 500). On Friday, Alibaba Group CEO Jack Ma said that his Chinese Internet conglomerate would be "interested" in buying all of Yahoo.
Shares of Eastman Kodak (EK, Fortune 500) surged more than 70% Monday, after plunging almost 60% Friday. Rumors swirled that the camera maker had hired a law firm for advice on a major restructuring or bankruptcy filing. The company later denied that it is planning bankruptcy moves.
Apple's new CEO, Tim Cook, will take the stage at the Town Hall auditorium on Apple's (AAPL, Fortune 500) Cupertino, Calif., campus Tuesday to unveil the new iteration of the iPhone. Rumors are swirling over whether there will be one new iPhone or two.
Bonds: The price on the benchmark 10-year U.S. Treasury edged up, pushing the yield down to 1.75% from 1.92% late Friday. Earlier, the 10-year yield dipped to a record low of 1.67%.
Currencies and commodities: The dollar rallied against the euro and the British pound, but lost ground against the Japanese yen.
Oil for November delivery lost $1.59 to settle at $77.61 a barrel.
Gold futures for December delivery rose $35.40 to settle at $1,657.70 an ounce.