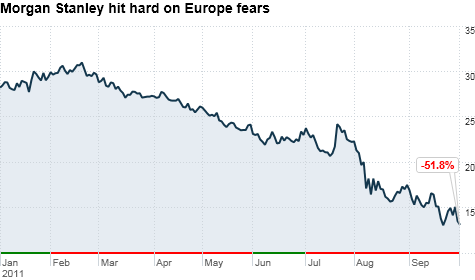 It has been a nightmarish slide for Morgan Stanley in the past few weeks. Investors are nervous about the investment bank's exposure to French banks and Greek debt.
NEW YORK (CNNMoney) -- Morgan Stanley is not on the verge of collapse. But you wouldn't know that from the way nervous investors are acting.
Shares of Morgan Stanley (MS, Fortune 500) plunged more than 10% on Friday. That capped off a chaotic week in which the stock fell 5% Wednesday and bounced back more than 6.5% the following day.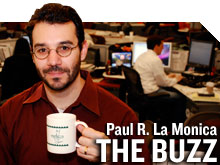 Investors are worried about what exposure Morgan Stanley may have to sovereign debt of Greece and other so-called peripheral nations in Europe.
Specifically, there are fears that Morgan Stanley could suffer big collateral damage due to its exposure to French banks that have big ties to Greece and the rest of the PIIGS.
Morgan Stanley's stock has yo-yoed for the past few weeks due to the concerns about Europe. Shares attempted a comeback on Monday, gaining as much as 4% in the morning before pulling back as the day wore on. Shares were down 6% in mid-afternoon trading.
That's par for the course with Morgan Stanley lately. The down days have been more frequent (and far more dramatic) than the up days. The company has lost more than half its market value in 2011. Bank of America (BAC, Fortune 500) is the only major U.S. bank to have fared worse.
But it seems that investors are panicking and overreacting. If you look at the numbers, it does not look as if Morgan Stanley is close to becoming the next Lehman Brothers.
A spokesman for Morgan Stanley had no comment about the stock's slide and any exposure to European banks or debt.
It is unlikely that Morgan Stanley will give any more information about its position in Europe until it reports its third-quarter results. Those numbers are likely to be released during the week of October 17.
However, several analysts that follow the bank have rushed to the firm's defense. Analysts at Wells Fargo wrote in a report Monday that they estimate Morgan Stanley's gross exposure (i.e. before the effect of hedges) to French debt and French banks to be just $2.4 billion.
The Wells analysts added that they thought the fears about Morgan Stanley's exposure to Europe have been "overly discounted by the market in recent weeks."
What's more, a person familiar with Morgan Stanley's financials, said that the bank's net exposure (including hedges) to France is zero.
Morgan Stanley has been more forthcoming and transparent about its exposure to Greece and the rest of the PIIGS. In its most recent quarterly filing with the SEC, the bank said that its gross exposure to Greece and other peripheral European nations was just $5 billion. The net exposure was only $2 billion.
As a result, analysts at Credit Suisse wrote in a report Monday morning that they think a write-down of Greek, French and other European exposure would be "digestible" by Morgan Stanley -- as well as rival Goldman Sachs (GS, Fortune 500) for that matter.
The Credit Suisse analysts noted that both companies would be able to absorb a hit tied to losses from Europe, writing that each would still have "ample room ... to be in a strongly capitalized position."
That seems especially true for Morgan Stanley. Its Tier 1 common capital ratio, a key measure of a bank's financial strength, is now a healthy 14.6%. That's a substantial improvement from a ratio of only 6.2% at the height of the financial crisis in the first quarter of 2009.
Morgan Stanley has been helped by capital injections from China Investment Corp. and Japan's Mitsubishi UFG Financial Corporation (MTU), which both took stakes during the worst of the credit crunch.
However, it's not as if Morgan Stanley is in "good" shape. Far from it. Earnings estimates for the remainder of this year and 2012 have come down sharply in the past few months. And that makes perfect sense.
The combination of a sluggish recovery in the developed world and the volatile financial markets is likely to lead to a reduction in trading revenue as well as investment banking fees. All of a sudden, this doesn't seem like an opportune time to go public or make a huge acquisition anymore.
One analyst who follows Morgan Stanley but asked not to be named, added that Morgan Stanley is "behind the game" in regards to cost cutting when compared to its top competitors.
Goldman Sachs and BofA -- as well as European banks UBS (UBS) and HSBC (HBC) -- have all announced significant layoffs in the past few months. It's possible that Morgan Stanley will need to follow suit if the markets and economy continue to deteriorate.
Still, I don't think that any of these gloomy forecasts justify a sell-off of this magnitude in Morgan Stanley. Is the bank a screaming buy right now? Of course not.
But name one big global bank that is.
Yes, there is the risk that a Morgan Stanley meltdown could become a self-fulfilling prophecy if investors keep pushing the stock lower. In that regard, the plunge in Morgan Stanley's stock is eerily reminiscent of 2008.
Still, there's a big difference between predicting more hard times ahead for Morgan Stanley and imminent financial doom. It would be reckless to predict the latter unless the numbers back up that outlook. They don't.
No buzz until Thursday. Off to the 404 for the next two days to meet with people at CNN's home base. No columns tomorrow or Wednesday. Unlikely to tweet much either. Back in full force Thursday.
The opinions expressed in this commentary are solely those of Paul R. La Monica. Other than Time Warner, the parent of CNNMoney, and Abbott Laboratories, La Monica does not own positions in any individual stocks.