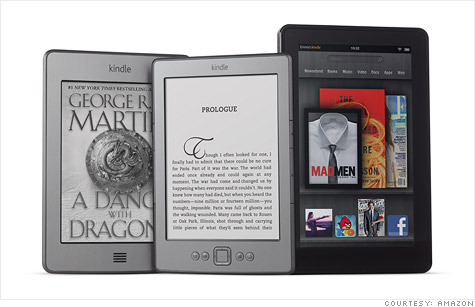 Amazon's new Kindle line includes a big push for cheaper, ad-supported versions.
NEW YORK (CNNMoney) -- When Amazon launched the first ad-supported Kindle in May, it was something of an afterthought -- a cheaper alternative. But last week, Amazon made clear that ad-supported Kindles are the new standard.
Amazon (AMZN, Fortune 500) CEO Jeff Bezos took the stage in New York City to reveal the long-awaited Amazon tablet: the Kindle Fire. But in a surprising move, Bezos also announced four new versions of Amazon's dedicated Kindle e-reader.
At the event, Bezos rattled off the shockingly low prices for each model, ranging for $79 for an entry-level Kindle to $149 for a Kindle Touch 3G with free cellular service.
It wasn't immediately clear that Bezos was citing the prices for the ad-supported devices -- and he didn't call out the price for the Kindles without ads, which are $40 to $50 more. Only the Kindle Fire, priced at $199, has no "sponsored," cheaper version.
"Amazon was making the point that ad-supported is now the mainstream product, the default," says Tom Mainelli, research director for mobile connected devices at IDC. "And then, if you're willing to pay a little more, you go for the Kindle without ads. It's a reversal of the philosophy."
The so-called "Special Offers" -- ads that appear on the e-reader's screensaver and at the bottom of its home screen -- help Amazon subsidize the price of the hardware. The sponsored Kindles will also include AmazonLocal daily deals, an addition Amazon announced a few weeks ago.
"It's not a huge price difference, but at the end of the day you can get a Kindle for $79," Mainelli notes. "The ads got Amazon below that $99 sweet spot."
Amazon is "uniquely positioned" to deliver those ads in a minimally irritating way, Mainelli says, because it knows its customers' buying patterns from the retail site. Other e-reader makers, like Barnes & Noble (BKS, Fortune 500) and Sony (SNE), don't have that advantage, and could alienate customers if they tried an ad-supported model.
Another major advantage for Amazon is its robust catalog of more than 1 million e-books -- and its growing library of pay-per-stream TV shows and movies. Amazon is willing to get the hardware into users' hands on the cheap, knowing it will make up its losses by selling them digital content.
Supply chain research firm IHS iSuppli did a preliminary estimate that each Kindle Fire costs $209.63 -- meaning Amazon is eating a $10 loss on every device. ISuppli plans to update its estimates once it gets hold of and can break down an actual Kindle Fire, which begin shipping Nov. 15.
While Barnes & Noble also boasts more than 1 million e-books for its Nook reader, one analyst says that's diminished by Amazon's head start and its strong brand.
"Amazon has gotten out so far ahead in leading the e-book space that it's almost synonymous," says Brian Smith, senior research analyst at Ticonderoga Securities. "Amazon has to protect its book franchise, and they'll do anything they can to keep growing the e-book business -- even if it means losing a bit of profit on the hardware."
In fact, Amazon could eventually subsidize the entire cost of the Kindle and simply give it away, IDC analyst Mainelli predicts.
"Amazon has made extremely bold moves," he says."It wouldn't be a shocker to see them come in and completely change the game, again."