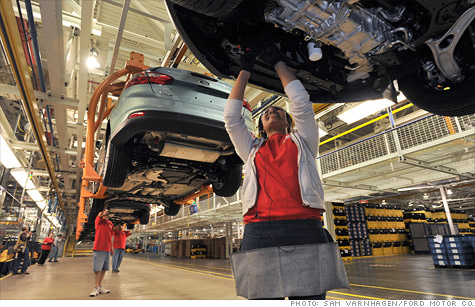 Ford Motor and UAW tentative deal includes investment guarantees, cost structure to let company move work back to the U.S. from suppliers in Mexico, China and Japan.
NEW YORK (CNNMoney) -- Ford Motor and the United Auto Workers union reached a tentative labor deal early Tuesday morning that the two sides say will create almost 6,000 new hourly jobs at Ford's U.S. factories in the next four years.
Those jobs will come from about $4.8 billion in additional product development, plants and equipment that Ford (F, Fortune 500) commits to in the new deal.
"This tentative agreement adds another 5,750 new jobs to communities across America where people have been struggling to recover from our nation's economic turmoil," said UAW President Bob King. "The American auto industry is on its way back."
Ford has about 41,000 UAW members today, and in January announced product plans that should allow the company to add, retain or rehire just over 6,000 hourly workers at its U.S. plants. But Ford said the deal will allow it to create the additional jobs either through new production or shifting work from overseas and Mexican component suppliers back in-house.
"This deal improves our competitiveness. It also enables us to insource work from Mexico, China and Japan. This is good for jobs here in the United States," said John Fleming, Ford executive vice president of global manufacturing and labor affairs.
In some cases vehicles now built outside the United States, such as the Fusion that is built in Mexico, will be shifted to U.S. plants. A plant in Flat Rock, Mich., will get a second shift to build that compact car.
Fleming said most of the jobs would be new workers who will be paid under a lower wage and benefit package than veteran UAW members get.
The pact needs to be ratified by the rank-and-file union members at Ford before it goes into effect.
"I think it's a fair deal for the employees, and we hope they see it that way," said Fleming. "We have to continue to be competitive. I think we've been able to achieve balance."
A statement from the union said the deal includes a significant boost in profit-sharing for members, who received about $5,000 each last year. There is also a $6,000 signing bonus for most workers and $7,000 in additional lump-sum payments guaranteed during the life of the contract.
But there was no increase in the hourly pay rate of the veteran employees, although the lower-paid scale for entry workers was raised to $19.12 an hour, still only about half of what veteran workers receive.
The top priority of all three U.S. automakers in these negotiations has been limiting fixed-cost increases. And this deal apparently does that, in the neighborhood of the same 1% increase in fixed costs agreed to last month at General Motors.
"To ensure that both sides benefit, the UAW and Ford negotiated a contract that helps the company keep their fixed costs and product prices competitive, while providing substantially increased profit-sharing to workers, so everyone benefits when the company does well," said Jimmy Settles, the union's chief negotiator with Ford.
Settles said a polling of rank-and-file before the talks found that their top priority was jobs and security. Despite the fact that Ford workers rejected some changes in the contract in 2009 that workers approved at GM and Chrysler during their bankruptcy, Settles and King said they're confident this deal will have popular support with membership at Ford.
"It doesn't mean anything if we get a $5 an hour pay increase and we end up with 5,000 people laid off because we didn't get the product and the investment," said King.
The union's deal with GM was beneficial enough to the company's finances that rating agency Standard & Poor's raised GM's credit rating and said it is considering removing the company's debt from junk bond status for the first time since May 2005.
The deal with GM (GM, Fortune 500) included investment guarantees that the union and company said should retain or create about 6,400 jobs.
Still, even with good marks for the deal from financial analysts and S&P, GM's stock has fallen since the agreement was announced, due greatly to fears that the U.S. economy is at risk of falling into a new recession. It closed Monday at $19.73, the lowest point since its $35 a share initial public offering last November. Ford shares have lost a comparable amount of value during that time.
Ford shares gained 3% in midday trading Tuesday morning following the deal, while GM shares gained 2%.
The union still needs to reach a deal with Chrysler Group. Despite missed deadlines and harsh words about the union by Chrysler CEO Sergio Marchionne earlier in the talks, King insisted Tuesday that those talks have been going smoothly and that he expects to be able to quickly wrap up a deal there as well.