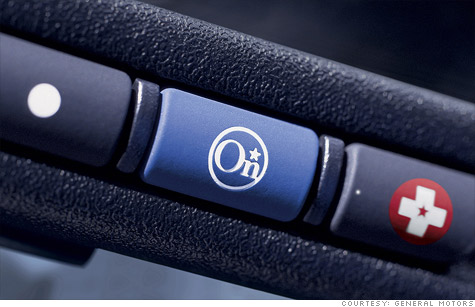 Most GM vehicle owners will be able to join in RelayRides' car sharing network without having to install additional hardware, thanks to a new arrangement involving OnStar.
NEW YORK (CNNMoney) -- General Motors is making it easier to let complete strangers take your car. An arrangement between the automaker's OnStar division and RelayRides, a peer-to-peer car-rental company, will give GM car owners a simple way to rent out their cars on the RelayRides network.
RelayRides lets members to rent out their personal cars to other people by the hour or the day. The company provides an online marketplace in which people can find a car to rent and, to protect owners, obtain a $1 million insurance policy that covers the car while it's being rented.
Ordinarily, vehicle owners have to install special RelayRides hardware that allows renters to unlock the car without needing a key. Now, GM will allow its OnStar hardware, already installed on most GM cars, to be used to access RelayRides cars. (OnStar has long offered remote door unlocking, generally used when keys are locked in the car or simply lost.) The renter will be able to unlock the OnStar-equipped car using a mobile phone, just as if the car had the RelayRides device installed.
"We're using technology to make both our older and newest models car-share ready and available for those owners who choose to participate in car-sharing," said Stephen Girsky, GM vice chairman.
OnStar will begin working with RelayRides in early 2012.
RelayRides is currently available only in San Francisco and Boston, but the company plans to expand to markets across the country by the end of 2012. The arrangement with OnStar will make that easier, a spokesperson for both companies said, since no hardware installations will be needed on cars with OnStar.
OnStar has 6 million active subscribers in the U.S., GM spokeswoman Kim Cusinato said, and about 15 million cars have OnStar hardware installed.