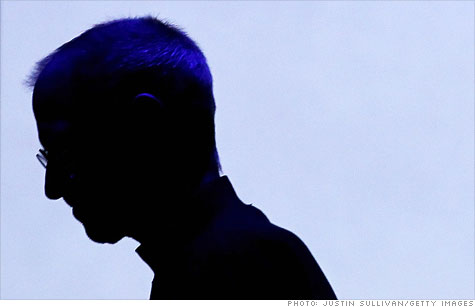 NEW YORK (CNNMoney) -- As news of Steve Jobs' death spread Wednesday night, those in the tech world began mourning the loss of the innovator who constantly pushed the field's "what's possible?" boundaries.
"Apple has lost a visionary and creative genius, and the world has lost an amazing human being," Apple CEO Tim Cook wrote to employees in a company memo. "Steve leaves behind a company that only he could have built, and his spirit will forever be the foundation of Apple."
Apple (AAPL, Fortune 500) encouraged employees and members of the public to share thoughts about its founder by e-mailing rememberingsteve@apple.com. Members of the tech community also were quick to share their memories in person and on social networks. Twitter.com briefly crashed under the heavy volume.
"It's the biggest loss to the tech community ever, but Steve Jobs has been able to leave a legacy not just by product but the people he's brought along the way," said Jonathan Tao, a partner at venture capital firm General Catalyst.
Tao's remarks came at a New York City party celebrating the city's tech startups. As the news worked its way through the event, many began sharing stories of how Jobs had inspired them.
"I'm that kid from the basement, and this was the best place for me to hear it," said Jonathan Hefter, CEO of Neverware, a hardware startup that helps squeeze new life out of aging PCs. "Standing in a room full of people hearing that one of our inspirations has passed away only emphasizes that it's up to us to carry that legacy going forward."
"Steve Jobs is that guy that taught every entrepreneur to believe in their own vision," said David Bloom, founder of Ordr.in, which makes software for restaurateurs.
"He brought design to the masses," said Richard Coughlin, director of global operations at Big Fuel. "People started to get use to well designed products. He set the bar for product development."
"The industry lost its top visionary," said Jay Yarow, tech editor at Business Insider. "People talk about Mark Zuckerberg being one, but he's just a software guy. Steve was hardware, he was software, he was everything."
For his part, the Facebook CEO posted that he considered Jobs a "mentor and a friend."
"Thanks for showing that what you build can change the world," Zuckerberg wrote on Facebook. "I will miss you."
Microsoft (MSFT, Fortune 500) Chairman Bill Gates, who will always be associated with his at times contentious rivalry with Jobs over the past three decades, called Jobs a friend, and said it was an "insanely great honor" to work with him.
A number of celebrities and politicians also took the time to remark on Jobs' passing, including President Obama.
"The fact that a sitting president has released a heartfelt statement about the death of Steve Jobs speaks volumes about his impact," noted Chris Ziegler, editor at Engadget.
As reactions rolled in from world leaders and tech titans, Apple customers took to Twitter to share how Steve Jobs touched their lives -- sometimes in surprising ways.
"I had a fantastic experience at the genius bar earlier today, before the news. As a guy who's worked retail, thanks for that, Steve," said filmmaker Ryan O'Donnell (@ryanodonnell) on Twitter.
"I am crying for a man I never met. That's 'influence,'" noted Alexis Levenson (@overthinker), who works in public relations for an insurer.
A day earlier, Apple was criticized for its disappointing iPhone announcement, with a presentation that lacked Jobs' panache and charisma. Many noted that those criticisms seem misplaced now.
"All the iPhone rumor-mongering seems a bit silly right now, doesn't it? #perspective" said Macworld editor Dan Frakes via Twitter.
Michael Gartenberg, Apple analyst at Gartner, pretty much summed it up in this tweet: "He invented the PC, redefined it, took a company on brink of ruin & made it most valuable in world, changed music & phone worlds forever."
-CNNMoney writers David Goldman, Laurie Segall and Julianne Pepitone contributed to this report.