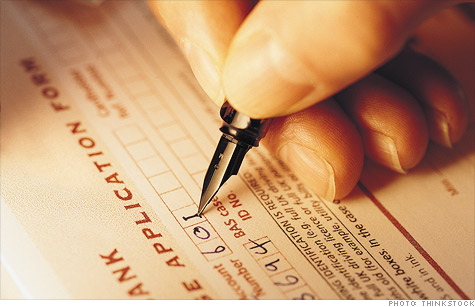 NEW YORK (CNNMoney) -- Mortgage rates have never been cheaper, with the 30-year rate falling below 4% for the first time in history.
The interest rate on a 30-year fixed-rate loan fell to 3.94% this week, the lowest rate since mortgage giant Freddie Mac (FMCC, Fortune 500) began tracking it. Meanwhile, the average for a 15-year fixed-rate mortgage also hit a record, falling to 3.26%.
"Average 30-year conventional fixed mortgage rates fell below 4% for the first time in history this week following a sharp drop in 10-year Treasuries early in the week as concerns over a global recession grew," said Freddie's chief economist, Frank Nothaft.
Yields on the benchmark 10-year U.S. Treasury bond, which mortgage rates closely track, have been under 2% this week, closing as low as 1.78%.
The dirt-cheap mortgage rates can result in considerable savings for homeowners. Compared with just three months ago, when the 30-year was at 4.60%, borrowers today can save about $40 a month per $100,000 borrowed. That comes to a savings of nearly $14,000 for every $100,000 borrowed over the life of the 30-year loan.
The low rates have done little to boost home buying, however, according to the Mortgage Bankers Association. Their weekly survey of mortgage applications reported a drop in all loans of more than 4%. Purchase loan applications were almost flat and refinance applications fell more than 5%.
"Potential borrowers largely remained on the sidelines, seemingly unimpressed by the lowest (by any measure) mortgage rates since the 1940s," said Mike Fratantoni, MBA's Vice President of Research and Economics.
Some industry insiders remain unimpressed by the relentlessly falling cost of mortgage borrowing.
"Record low rates, blah, blah, blah: We've already heard this," said Keith Gumbinger of HSH Associates, a mortgage information provider. "Other than the price of money, nothing else has happened."
Given the nation's faltering recovery, the turmoil in Europe and the struggling housing market, the downward trend in mortgage rates is natural, according to Gumbinger.
"The lowest mortgage rates come at the bleakest periods," he said.