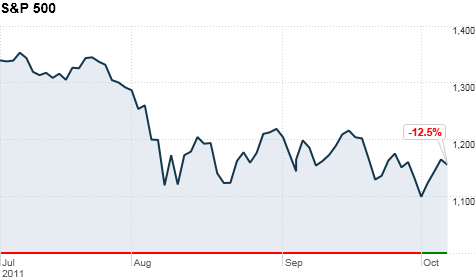 Click the chart for more stock market data.
NEW YORK (CNNMoney) -- Stocks kicked off the fourth quarter with gains last week, but the week ahead could be more challenging as the quarterly earnings season gets underway and Europe's debt crisis remains in the spotlight.
Dow components Alcoa (AA, Fortune 500) and JPMorgan Chase (JPM, Fortune 500) report quarterly financial results, as well Pepsico (PEP, Fortune 500) and Google (GOOG, Fortune 500). All four heavyweights are among the S&P 500 companies.
S&P 500 company earnings are expected to have climbed almost 13% in the third quarter of 2011, according to earnings tracker Thomson Reuters. Revenues of the companies in the benchmark index are expected to have risen 10%.
While investors will take note of how third-quarter earnings figures fare against estimates, they will be more focused on how companies expect to perform for the remainder of the year.
Pepsico's results, which are due before the opening bell on Wednesday, will shed light on the financial health of consumers around the world, amid growing signs of a global economic slowdown.
On Thursday, JPMorgan Chase will be the first of the nation's big banks to report results. U.S. financial giants have been hammered recently, amid worries about what exposure they may have to the sovereign debt of Greece and other so-called peripheral nations in Europe.
Investors will also remain on edge as they keep a close eye on developments in Europe. Stocks ended lower on Friday, snapping a 3-day winning streak, after Fitch cut its credit ratings for Italy and Spain and Moody's downgraded 12 U.K. banks.
"Europe's debt problem is still the biggest elephant in the room," said Tom Schrader, managing director at Stifel Nicolaus. As long as European officials continue to stall taking substantive steps toward a resolution, the region's debt crisis will pressure the market and investors sentiment, he said.
On Wednesday, Investors will get the minutes from the Federal Reserve's September meeting, when the central bank announced so-called Operation Twist, a plan to swap out $400 billion in short-term Treasuries for longer term bonds but fell short of launching a third round of bond buying.
Economic data will come in two big batches at the end of the week: weekly unemployment claims and the August trade balance figures are due on Thursday, while September retail sales, import and export prices, October consumer sentiment and August business inventories are on tap for Friday.
The bond market will be closed Monday for Columbus Day.