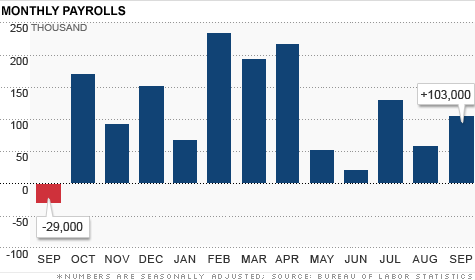 NEW YORK (CNNMoney) -- Hiring was stronger than expected in September, a rare piece of good news amid growing worries of a weakening U.S. economy.

Employers added 103,000 jobs in the month, the Labor Department reported Friday. And July and August were both revised higher, showing an additional gain of 99,000 jobs over the summer.

For the last several months, there have been widespread concerns about the economy falling back into recession. So Friday's report was welcome news. Economists surveyed by CNNMoney had predicted an overall gain of just 65,000 jobs in the month.
Still, September's report was considered relatively weak. So far, the economy has recovered only 2.1 million of the 8.6 million jobs lost since the recession began. And economists often say the economy needs to add at least 150,000 jobs a month just to keep pace with population growth.
"It's hard to get too excited even about the positive news," said Tig Gilliam, president of the North American unit of job placement firm Adecco. "In the long-term we're still treading water. No one is hiring unless they absolutely have to."
While Businesses added a respectable 137,000 jobs, that number was bolstered by 45,000 Verizon (VZ, Fortune 500) strikers who returned to work last month. And that hiring was slightly offset by a loss of 34,000 public jobs, mostly at the local government level.
Meanwhile, the unemployment rate remained unchanged at 9.1%, in line with economists' forecasts.
Economists expect relatively modest hiring and no change in unemployment for the rest of this year, according to a CNNMoney survey, and only a slight pickup next year, bringing unemployment down to 8.6% by the end of 2012.
"This is a positive report, but employers are definitely still cautious in general," said Scott Melland, CEO of Dice Holdings, a leading provider of specialized career web sites. "This is definitely not the recovery everyone hoped it would be."
Hiring was uneven across different parts of the economy as just over half of the industries tracked by the Labor Department added jobs, while the rest trimmed payrolls. Construction, retailers and professional and business services added jobs, while employers in manufacturing, financial services and leisure and hospitality cut staff.
And there was more pain for those who are struggling to find work. The average time that the unemployed have been without work hit a record 40.5 weeks in September. Just under half of those jobless have been out of work for more than six months.
The number of workers who are stuck in part-time jobs but want full-time work rose to 9.3 million, up 444,000 from August and the biggest jump in two years.
Those workers, combined with discouraged job seekers who are no longer counted among the unemployed because they're not actively looking for work, make up the so-called underemployment rate, which rose to 16.5%, the highest rate so far this year.