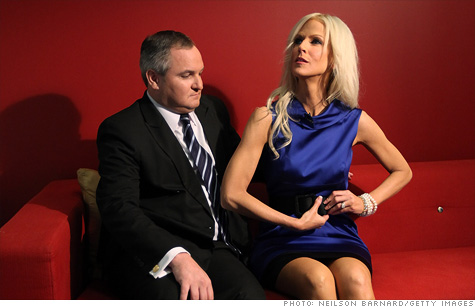 Before their split, Michaele and Tareq Salahi were best known for crashing a state dinner at the White House.
NEW YORK (CNNMoney) -- Out of sight out of mind? That's what Tareq Salahi hopes will happen after selling the bulk of his and his wife's personal possessions this weekend.
Michaele and Tareq Salahi first made headlines after crashing a White House dinner in 2009, and then with a one-season stint on Bravo's "Real Housewives of D.C." They most recently made waves when Michaele left Tareq for Journey guitarist Neal Schon.
Tareq filed for divorce in September and is now purging the couple's possessions in a live auction that will also be streamed on 9021go.com Saturday. His aim, he said, was to "get some closure."
Thirty-seven items are for sale, including bed linens, furniture and art from their Virginia home, plus Tareq's platinum Tiffany's wedding band.
Salahi said he is not auctioning any of the contents of his wife's three large walk-in closets, which have remained untouched since her departure. But he is including the presents that he purchased for her birthday this month and the couple's eighth anniversary, which would have been Nov. 1.
"I bought her a scarf, bracelet and some fancy lingerie, sexy lingerie," he said.
Also included are a Michaele Salahi doll (in the infamous red sari she wore to crash the White House) and Louis Vuitton luggage.
The most expensive item on the auction block is a Frederick Hart sculpture which is valued at over $1 million, according to Salahi.
"A good, fair, decent portion of the proceeds will go to charity," said Alki David, the organizer of the event.
The auction will take place at a boutique in Beverly Hills. Interested buyers can also purchase items online starting at 11 p.m. ET on Saturday and in the days to follow.
Salahi says after the auction he will stay in Los Angeles indefinitely, and that he is currently exploring offers for various television projects.
"I'm just trying to move forward," he said.