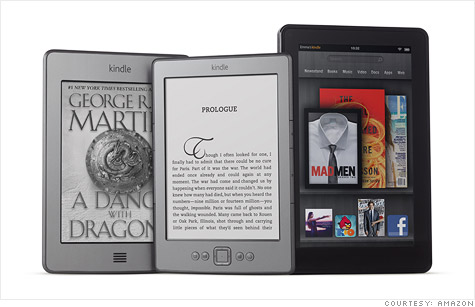 Amazon's Kindle Fire exclusives ignited Barnes & Noble's wrath.
NEW YORK (CNNMoney) -- Don't share with Barnes & Noble, and you'll face the book behemoth's wrath. One week after DC Comics handed over exclusive digital rights for some of its comic books to Amazon, B&N fired back by yanking physical copies of those books off its store shelves.
Barnes & Noble said it is following its usual proceedure for dealing with publishers that release digital versions of their books but withhold those e-books from B&N.
"Regardless of the publisher, we will not stock physical books in our stores if we are not offered the available digital format," the company's chief merchant, Jaime Carey, said in a written statement. "To sell and promote the physical book in our store showrooms and not have the e-book available for sale would undermine our promise to Barnes & Noble customers to make available any book, anywhere, anytime."
Carey called these kinds of standoffs "a few isolated instances," but the wrangle with DC Comics is affecting some of the graphic novel genre's highest-profile titles.
In a deal linked to the launch of Amazon's (AMZN, Fortune 500) Kindle Fire, Amazon's first color e-reader and a cut-price iPad rival, DC Comics made 100 of its titles available digitally for the first time. Exclusively sold through Amazon's Kindle store, the e-books will be available November 15, the same day the Kindle Fire begins shipping.
But B&N isn't waiting until then. It pulled the titles off its shelves this week, yanking bestsellers like Batman: The Dark Knight Returns. The list of booted titles also includes Neil Gaiman's Sandman series, Brian K. Vaughan's Y: The Last Man series and Alan Moore's Watchmen and V For Vendetta.
Barnes & Noble (BKS, Fortune 500) customers can still purchase the books through the company's website and can special-order them in stores. A DC Comics spokeswoman said the company was "disappointed" by Barnes & Noble's decision.
Comic book industry blog BleedingCool, which first reported the news, called it a "scorched earth policy" that -- coming on the heels of Borders' shutdown -- leaves some of the genre's classics without any mass-market bookstore distribution.
It also illustrates the growing tension between the power players in the fight for a slice of the fast-growing digital content market. Everyone is battling, and consumers are caught in the crossfire, with no clear one-stop option for buying the digital books, TV shows, music and movies they want.
Will DC Comics (a unit of Time Warner, CNNMoney's parent company) ever make its titles available through other merchants, including B&N's Nook store and Apple's (AAPL, Fortune 500) iBooks shop?
"These titles are currently exclusive to Amazon," a company representative said. "We continue to have discussions with our other valued partners as digital is a key growth area for DC."